Last month a friend called to asked if I could do a chair upholstery for his two chairs I said yes, of course. I was excited to bring those vintage chairs back to life with new upholstery fabric, foam, webbing, cotton batting, burlap, and Dacron.
DIY Chair Upholstery
My friend won these gorgeous channel-back style vintage chairs in an auction, however; they needed an overhaul. We used modern upholstery techniques to recover and repair his chairs.
Removing Old Upholstery Fabric
I like to wear gloves when removing the old upholstery fabric, staples and tacks.
The first step was to remove the old fabric. I gently removed the channel-back panel so that I could use as a guide to constructing the new seatback.  Once the fabric is off we can assess what might need repairing. Once the fabric was removed I noticed that the seat cushion foam was ruined and the chair back frame was broken.
Wood Repair
The upper chair back frame was constructed with two pieces of curved wood that were joined in the center with wooden support attached under the joint. The joint support on one of the chairs was broken. I cut a new support out of hardwood and attached it to the frame with glue and screws.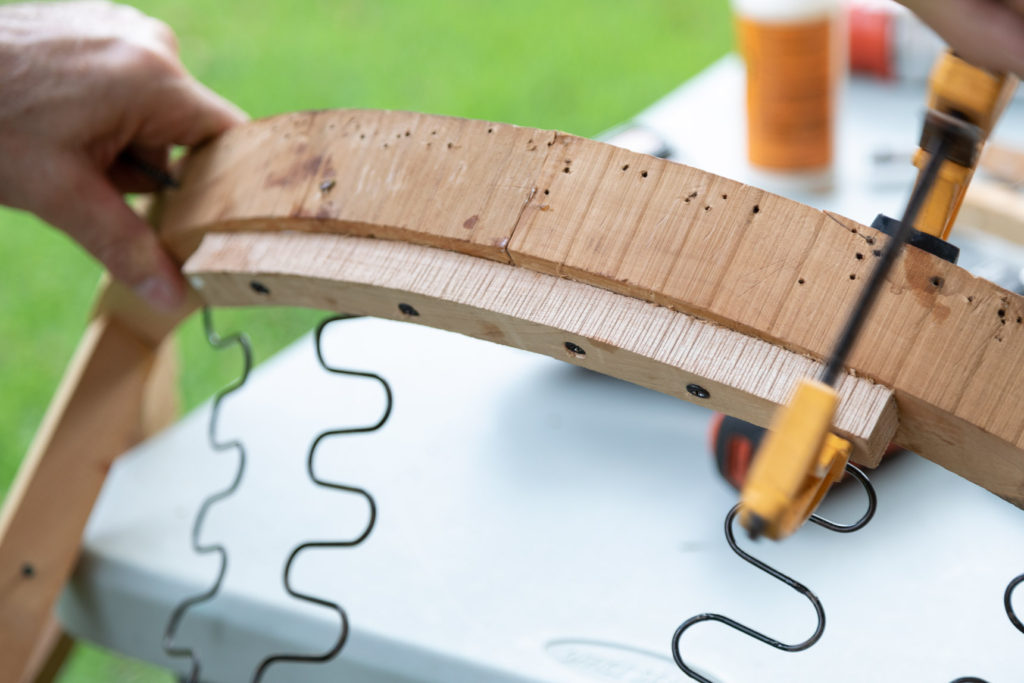 Silk film plastic (used to stuff channels)
Assembling the Channel-back
Note: if you want to refinish the wood frame do so before starting this step. You can see how pretty this vintage chair frame looked after painting it with chalk paint for an updated farmhouse look.
Learning how to staple the fabric to the wood frame after creating the backchannel back section is key to getting the perfect result along the back edge.  This is not an easy upholstery technique to master with channel-backs.
 DIY Chair Upholstery Completed
Professional Education Series Upholstery 101
We offer an easy to follow DIY Upholstery video and for a limited time grab your money-saving coupon here. so our readers can update their furniture and save money at the same time. We will answer all your questions as we upholster two antique chairs (see the chairs here) from the frame up. It makes a great gift too.
You might enjoy my latest video:
Thank you so much for visiting I hope you found some inspiration and are ready to start your chair upholstery.
Let me know in the comments what you would like to upholster first.
Thank you,
Kippi
Comments
comments