Black and White Check Pumpkin Pillow Applique DIY:
The black and white check pumpkin pillow applique DIY is my nod to fall. I adore anything black and white check, so I decided to make some fall accessories with it. I used linen fabric available here for the pillow cover and then added the pumpkin applique in the black and white check. The pretty yellow bench the pillows are sitting on we made a few months ago and the tutorial you can see here.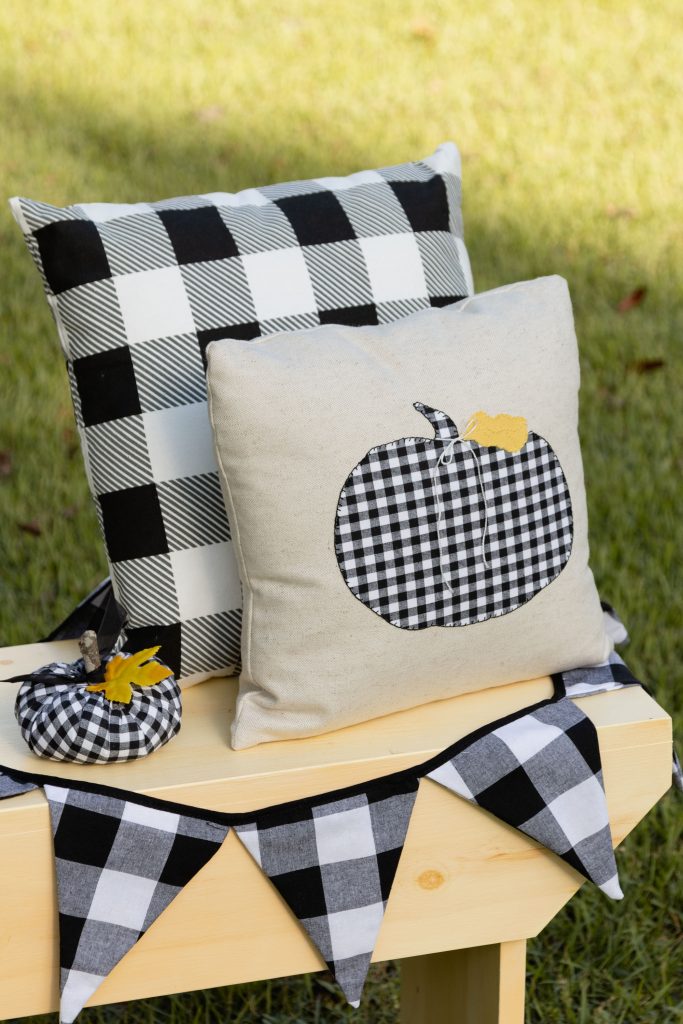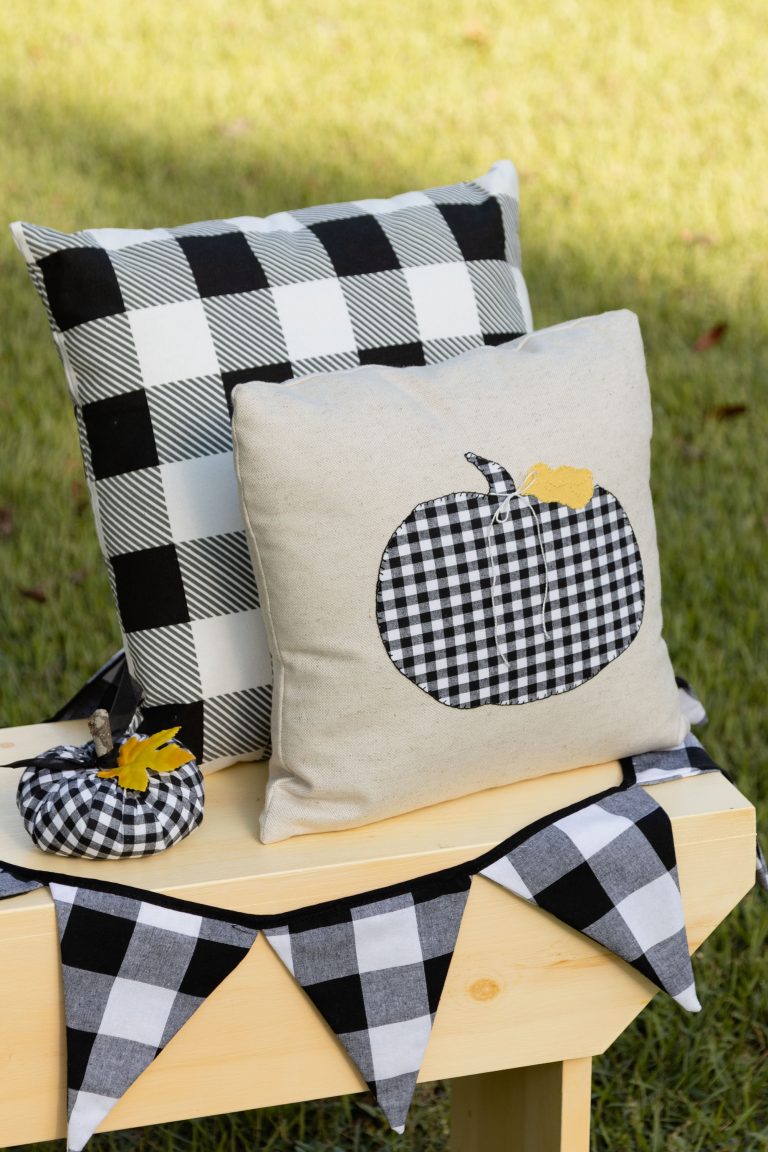 After drawing the pumpkin on a piece of regular paper I taped it up on the kitchen window with the Wonder Under over it and traced the pumpkin on the paper side of the Wonder Under.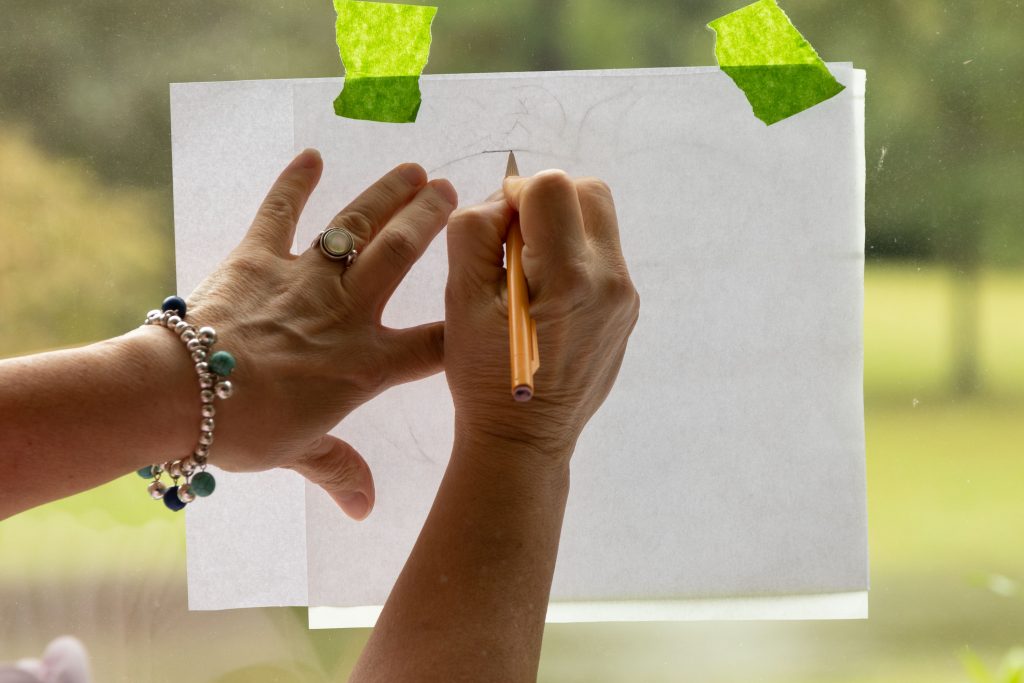 After the pumpkin and leaf where traced I cut away the leaf since it was going to be out of a different fabric.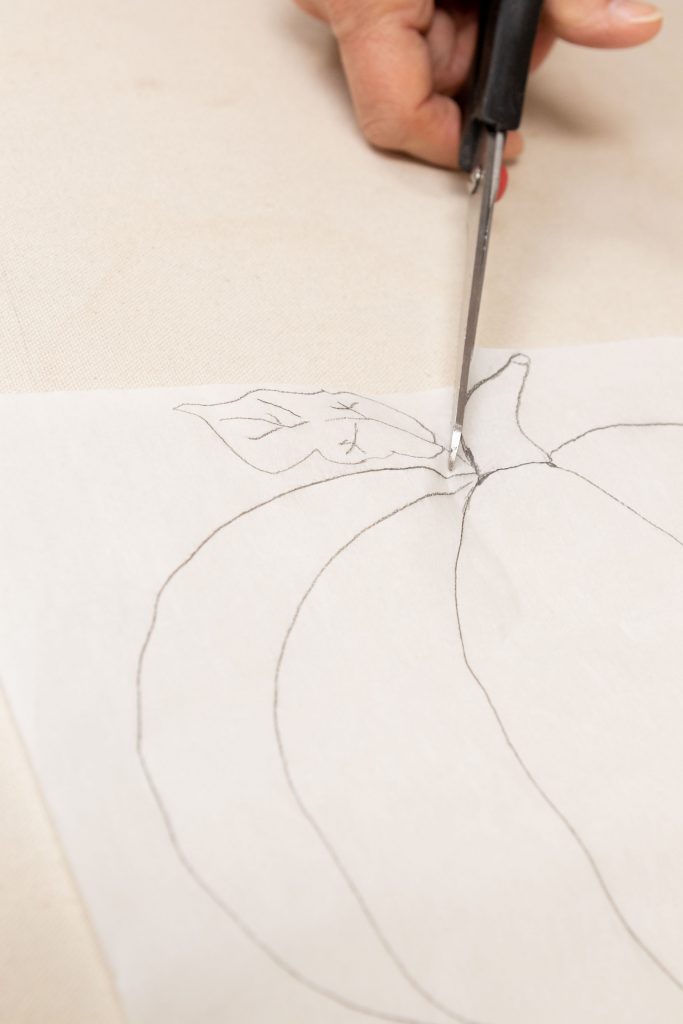 Since I loved all three of these fabrics I purchased a yard of each one. I decided to make my first pillow with the smallest plaid which is usually called check.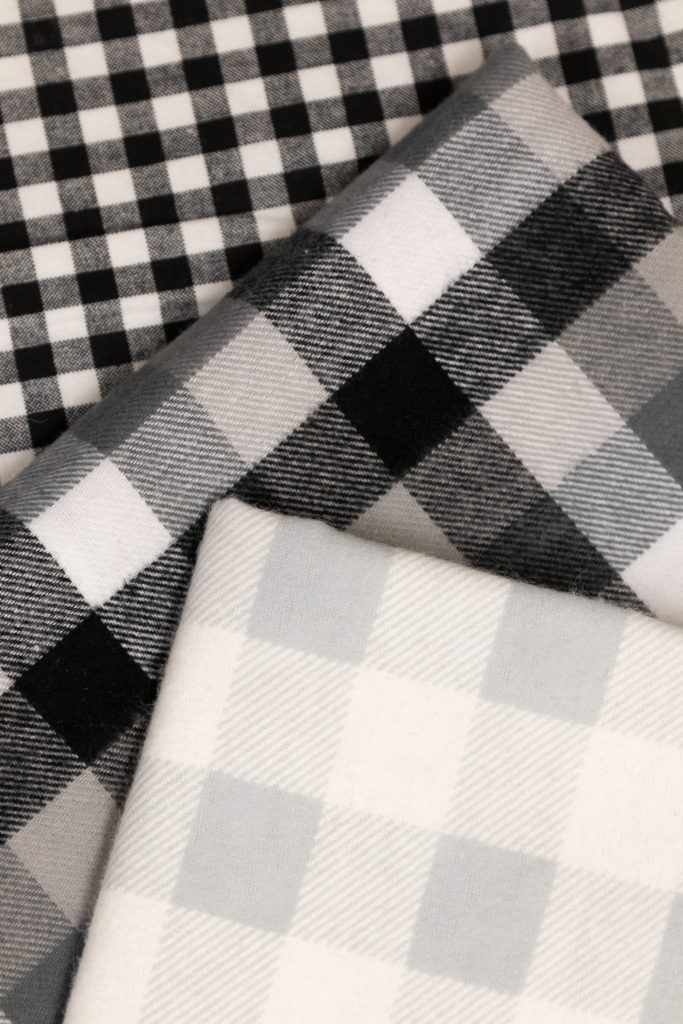 Next the applique (traced pumpkin on Wonder Under) needs to be ironed to the wrong side of your fabric.
After the ironed on  applique is cool cut it out along the traced lines. Then peel off the paper backing. Now it is ready to attached to the pillow pieces.
The pillow front and back were cut from linen then serged.
Attaching the applique:
Notice the purple marking in the center of the pumpkin it marks the center. The pillow piece has the same center mark on it so I lined them up to center then the best part I ironed it on. Once the pumpkin had adhered and cooled I then ironed on the yellow leaf.
The small check looked a little busy already so I decided not to embroider the lines in the pumpkin, however, I did embroider the lines (veins) on the leaf. Then I blanket stitched with black embroidery floss around the check fabric and used yellow embroidery floss to blanket stitch around the yellow leaf.
The tie is a piece of pearl cotton. You can sew the pillow any way you like. I used an invisible zipper in the bottom.
Once the pillow was finished I decided to make a pumpkin to go with it. You can see how to make these here.
Supplies needed:
Linen fabric
Wonder Under
Black and white check fabric
Embroidery floss in black, white and yellow
Pillow form
Invisible zipper
Yellow fabric
This has been a quick project, but I love the results. More pumpkins and pumpkin pillows are on my short to do list.
Are you ready for fall? I am still working on decorating and planning my Halloween decor for October( I cannot wait to share). Please share in the comments below what you have planned for fall.
Happy Fall,
Kippi
Comments
comments