Thanksgiving Hutch Styling:
Easy Thanksgiving Hutch Styling will only take minutes and you will be ready for your Thanksgiving guests.  It was so quick and fun styling the hutch for Thanksgiving. I have styled this hutch for Halloween and for the Teal Pumpkin Project and you can see that it easily transitions into the next season and holiday. Note: the hutch was painted in with Dixie Belle Chalk Paint in the color cotton so it is completely versatile.
Step One:
Start by removing everything. Then, the fun part, gather everything you would like to use. Note: not everything will be used, but gather lots of great items and mix and match then decide what goes where as you go.
Step Two:
After looking at all the Thanksgiving items you have gathered, make a plan. Think of placing items in groupings. I used the plate display on the hutch to display a group of plates. Then started placing items in front of those. The cute plaid pumpkin I made from a Goodwill shirt which you can read about how I did it HERE. The block signs I handmade.  You can make some too. The instructions and free PDF were in an earlier post you can find HERE.
Step Three:
The next shelf I decorated was the bottom shelf. In the my gathered items I had three clear vases with a word on each one. They needed something in them, so I had to go back on the hunt for more fabric pumpkins. I placed place-mats on the shelf to add color and then I added some wood slices to add a warm rustic touch to the display. This shelf also has some of my handmade signs in the Rae Dunn inspired font. Those adorable gnomes are another handmade item you can find in an earlier post HERE to learn how to make some too.
Step Four:
The first thing I added to the top shelf was the RD for Rae Dunn. Just having a little fun with the Rae Dunn pottery and my hand painted signs. Boxwood wreaths are my go to for almost every season's decor. They are natural and classically beautiful. Note: green is my favorite color!  So on the boxwood wreath went. Then I started adding a few more items, and lastly I added the black and white buffalo check banner/bunting. I am obsessed with buntings.
I used a boxwood wreath on the gnome's head too! Thanksgiving hutch styling is a breeze when you follow these easy steps. Add and subtract and move elements around until you like the look. The best part is you cannot get it wrong since it is your unique style and collection of Thanksgiving items.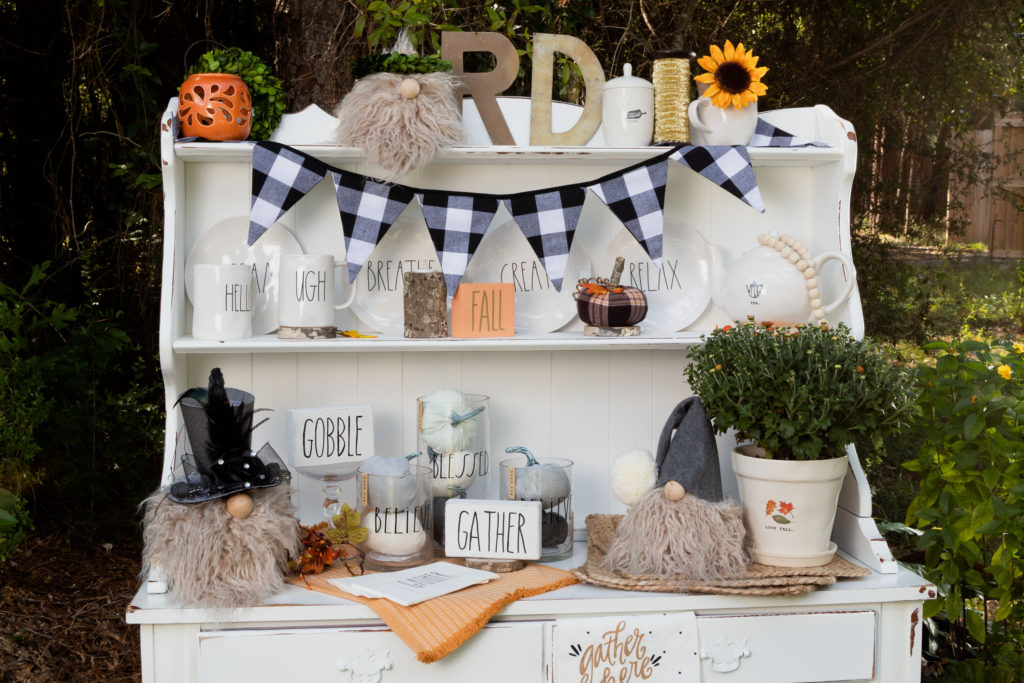 Sharing is Caring Please Pin for Later:
My Amazon picks:
Have a Blessed Thanksgiving and take time to relax. What are your favorite traditions for Thanksgiving? Please let me know in the comments below.
Comments
comments