The gentleman I purchased this antique wardrobe from also wanted to rescue it, but did not have the time to dedicate to the project. He tried and tried to sell it but there were no takers. I made him an offer he could not refuse since I really wanted to update it. He was mainly interested in the antique wardrobe being rescued and loved.  The wardrobe was missing the mirror and the framework for the mirror. You can see that in this photo. It is a heavy solid oak wardrobe that has years and years of use left in it, but it needed a makeover.
As soon as I purchased the piece I started a Pinterest search for similar wardrobes and chifforobes. The missing framework and mirror needed to be remade, but I wanted to design what was originally part of this wardrobe.  I noticed that the legs of this piece had simple lines and so I figured the mirror framework would have had simple lines too. In this next photo you can see the plain wood post I made to hold the mirror.
The mirror and framework are all new construction. I painted the frame and framework blue, purchased the mirror tilt hardware and it was as good as new. Pure happiness to see this once loved wardrobe updated and ready for a new life.
The wardrobe still had the original wood supports so I used those to attach the mirror framework.
After photos of the antique wardrobe rescue:
Painted this beauty's exterior with two coats of pigeon blue and then painted the interior and the sides of the drawers with aqua paint.

The aqua painted drawer sides are just an added bonus to the overall detailing of this fine piece of furniture that is sure to be a family heirloom.
The hanging clothes bar is still in great condition and ready for your clothes or table cloths.
This has been another successful antique wardrobe rescue. This beautiful one-of-a-kind piece is available for local sale to check it out HERE.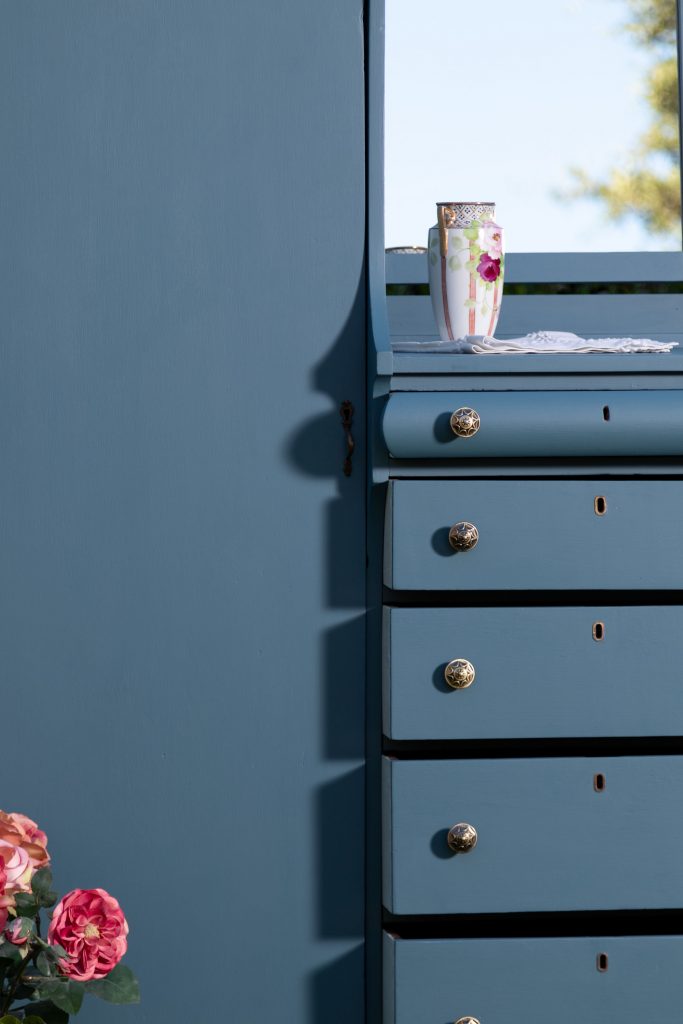 I am obsessed with the completed antique wardrobe rescue. It turned out better than I thought it would. My daughter chose the paint colors. It would have been painted off white if I chose the color and it would have been nice but not a showstopper like it is in this pretty blue and aqua.
She was inspired by the blues and teals found in nature during the spring.
What do you use as your inspiration? Please let me know in the comments below.  I would LOVE to hear from you.

Comments
comments