This amazingly delicious Mardi Gras King Cake was made by my friend, Cathy, the owner and head baker at C & C Creations. During Mardi Gras season, Cathy's business is hopping with King Cake orders. She is an expert baker of the traditional King Cake. She grew up in New Orleans and had been making these beautiful cakes for over 25 years. This cake measures a whopping 14 inches in diameter—so many layers of sweet goodness. So lucky I placed my order early and received this beauty today.
How to Make a King Cake
Mardi Gras King Cake Traditions
When I moved to the south and learned about the King Cake tradition of inserting the plastic baby, so I just had to order a King Cake for my family. The person who gets the baby in their slice of cake must provide a King Cake at the next Mardi Gras celebration. Mardi Gras is also known as Fat Tuesday and is the day before Ash Wednesday. However, the Mardi Gras season begins on Epiphany (January 6) and runs until midnight on the Tuesday before Ash Wednesday.
The colors of the sugar topping on the King Cake are traditionally purple (justice), green (faith), and gold (power).
This post contains affiliate links. This means that if you purchase from one of these links, I will make a small commission, but rest assured, you will not pay more for any products.
Supplies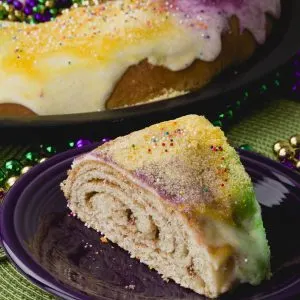 Ingredients
5

cups

bread flour

1 1/2

tsp

salt

1

tsp

cinnamon and a little grated nutmeg

2

tsp

instant yeast

1

egg

beaten

1

cup

milk

1/2

cup

lukewarm water

1/4

cup

unsalted butter

cut into 4 pieces

1/4

cup

honey

Filling

1/4

cup

butter

melted

1/4

cup

granulated sugar

1/2

cup

packed light brown sugar

1 1/2

tbsp

cinnamon

Frosting

2 1/4

cups

confectioner's sugar

3 3/4

tbsp

milk

room temperature

1/4

tsp

salt

1/2

tsp

vanilla extract

1 1/2

tbsp

butter

1 1/2

tbsp

corn syrup
Instructions
In a large mixer bowl, combine the first 3 dry ingredients: flour, 1 1/2 tsp salt, 1 tsp cinnamon, and nutmeg.

In a small bowl, add warm milk (not boiling). Add butter, stirring until melted, then stir in the water and honey.

In a small bowl, whisk the egg, then add it to the butter mixture.

Add the yeast to the dry ingredients.

Add the wet ingredients to the dry and mix with the paddle attachment until a dough just forms.

Switch to the dough hook and knead on medium speed until smooth and elastic, about 10 minutes. The dough will be a little sticky.

Transfer the dough to a lightly oiled bowl, cover, and allow to rise for 1 to 2 hours, or until doubled in size.

In the meantime, make the filling: In a small bowl, mix sugars and cinnamon. In a microwavable bowl, place 1/4 cup of diced butter and microwave for 30-45 seconds until melted. Set everything aside for now.

Once the dough has risen, turn it out onto a lightly floured surface and roll into a 10" by 12" rectangle. Brush with melted butter and cover with cinnamon and sugar mixture. Pat the mixture down to make sure it sticks.

Starting with the long side opposite you, roll into a log, pinching the dough closed when finished. The seam should be on the bottom. Take the rolling pin and roll over the log to flatten it.

Shape the log into an oval and pinch the ends together.

Place on a greased sheet pan.

Cover with a clean, dry towel and allow to rise for an hour, or until doubled in size.

Preheat the oven to 400 degrees. Bake for 18 to 20 minutes, or it reaches about 180 degrees inside.

After the cake cools, it is ready to be frosted.

Make the frosting in a 2 cup, microwavable measuring cup with a spout, melt 1 1/2 tbsp butter. Add the rest of the ingredients and mix until creamy.

Pour over cake and decorated with green, purple, and gold sugar.

Don't forget the baby.
Nutrition
Calories:
4469
kcal
|
Carbohydrates:
1024
g
|
Protein:
102
g
|
Fat:
126
g
|
Saturated Fat:
73
g
|
Cholesterol:
460
mg
|
Sodium:
4909
mg
|
Potassium:
1626
mg
|
Fiber:
29
g
|
Sugar:
270
g
|
Vitamin A:
4221
IU
|
Calcium:
742
mg
|
Iron:
9
mg
Pin Recipe
The King Cake has been a long time tradition during the Mardi Gras season in New Orleans. Read more about that HERE.
Mardi Gras Parades:
Another tradition is the world-famous Mardi Gras parades. Every day, something is happening during the Mardi Gras season in New Orleans, so check the schedule HERE. If you are thinking about enjoying a parade, you might want to check out Cathy's favorite parade: Mid-City Krewe of Endymion, held on March 2nd this year.
If you are in New Orleans on January 27th, you can add the King Cake Festival to your itinerary. Learn more HERE.
King Cake delivery:
You can see the heavenly King Cake delivery. Cathy is on the right.
I added a cake mix, so you can still enjoy a fresh-baked King Cake with family and friends if you are short on time.
You might also enjoy:
If you love easy desserts, then you are going to enjoy this Dump Cake recipe.
Want More?
Sometimes we all need a little inspiration for easy meals and recipes. I put together some recipes. I think you will like it.
If you like easy everyday recipes, you might enjoy my favorite recipes delivered straight to your inbox click HERE.
Thank you so much for stopping by.
Kippi