Welcome to week five of our laundry room makeover. This week is all about DIY laundry room storage. I am a guest participant for the Better Homes and Gardens One Room Challenge, and I invite you to visit all the other participants' makeovers.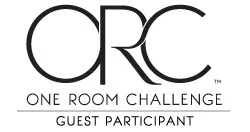 This has been the week with the most challenges, but we are moving forward, and I am so excited to see it all coming together.
My laundry room is the hardest working room in our house. It is a mudroom, utility room, pantry, storage room, command center, and hallway; hence my small laundry room design ideas must include storage, command center, organization, and functionality. Did I mention I had to stay on budget? Therefore, my plan must include inexpensive laundry room ideas too. This is going to be fun!
Remember where this makeover begins?
Unsightly, unorganized, and downright scary!
DIY Laundry Room Storage Ideas
We enter our house through the laundry room; for this reason, I would like to add a mudroom hall tree that I have designed. Adding a mudroom in the laundry room with a DIY hall tree will help everyone stay organized. The DIY hall tree plan includes a bench, cubbies with baskets and hooks. When I started dreaming about building a hall tree, I turned to Pinterest, the Holy Grail for DIY'ers, to get some inspiration. There are so many gorgeous mudrooms and hall trees, but which ideas are right for our needs? I want it all, but I started by listing our needs for the mudroom hall tree, so I could stay on budget and get our must-haves.
Mudroom Hall Tree Must-Haves
I was drooling over some of the gorgeous grandiose mudroom and laundry combinations I found on the internet; however, even with my small space, I could have some of those custom elements too.
Storage for tote bags, backpacks, lunch boxes, purses
Mudroom Coat Hooks
A place to sit to put on shoes
Baskets for mittens, scarves
Beautiful bench cushion
Custom pillows made with luxurious fabrics
Hall Tree Bench Plans
The hall tree bench will be the perfect place to sit and lace up your shoes. I will be learning how to build a hall tree this week. You might not believe that my favorite part of the entire project is sewing a cushion cover with piping and a zipper. Don't stop there since I adore pillows. I mean lots of cozy, comfy down-filled pillows made with luxurious fabrics provided by one of my project sponsors, Fabricut. The fabrics they provided are the nicest fabrics I have ever worked with. I will be making pillows with cording, pillows with two fabrics, and I hope I have enough fabric to make a faux Rome shade too.
Luxurious Fabricut Fabrics for Foam Cushion and Pillow
Laundry Room Storage Cabinets
Organized storage was missing in the original basic laundry room design, and now the new cabinets have added a ton of organized storage. The water heater enclosure cabinet has a large storage area above the water heater. There are so many options for storage I am in storage heaven. The water heater cabinet doors arrived this week, so I primed and painted them. I need to add the handles too.
Command Center Storage and Organization
The command center is the brain of the home, and ours has been untidy and underutilized for years, but that is changing this week! We had file holders overflowing with mail, an out-of-date calendar, and a tiny magnetic board for messages. The laundry was so uninviting no one wanted to be in there, so we all ran through it.
Command Center Must-Haves
I ordered a key holder made of iron that should look great with the lip brackets we use for the open shelving. The mail sorters I will be using are the same file holders we have, but I will add some fun with custom labels. We need a message center to pin to-do lists and leave messages; additionally, we like a grocery list for adding items we are out of or running low on. I will be shopping for the message center, and I might DIY something too if time permits.
Laundry Room Art Display
No room would be complete without art. We are a family of four creatives, and we always enjoy crafting, building, taking photos, sewing, and more together. I wanted to add some color and fun to the plain white walls of the laundry room, and what better way to add our own creations? We took a Batik fabric-making class as a family, and I want to use the Boho vibe fabrics we created together. Not sure exactly how to display them, but they will be part of our laundry room mudroom.
The laundry room makeover has many projects left to complete, and I am confident we can meet our deadline. See the other weeks below. We will have to organize everything this week, put everything away using our new laundry room storage, finish all projects, and decorate.
Take a look back:
This makeover has been a challenge since we are doing all the work ourselves, and we went of town for my class reunion in the middle of the project, but we love to DIY, build, craft, and decorate, so we are excited about seeing it through to the reveal next week. Please see our progress below.
Week one was laundry room ideas.
Week two, I share my laundry room design.
Third-week installing cabinets and building an enclosure cabinet for the water heater.
Week four Diy laundry room makeover building more cabinets and installing washer and dryer, tiled the backsplash.
Thank you so much for visiting today. I hope you found some inspiration. Please visit the other participants of the One Room Challenge too. You will be glad you did!
One last thing, I want to invite you to join me for a Stress-Free Thanksgiving; by subscribing to my Thanksgiving Newsletter, you will receive everything you need to plan and host a stress-free Thanksgiving. Click here to join me.
Have a wonderful day,
Kippi