My son drinks bottled kombucha from gorgeous amber bottles and I hated to see those amber bottles going out in the recycle so I started collecting them for fall. I am so excited its time to start fall decorating and I have those lovely amber bottles saved. This rustic farmhouse fall vignette took a few minutes to create and only a few items from the Dollar Tree.
This post contains affiliate links. This means that if you purchase from one of the these links I will make a small commission, but rest assured you will not pay more for any products.
How to Make a Fall Vignette
Yum, here are his favorite drinks in my favorite recycle bottles for fall decorating.
Removing the labels and those plastic rings.
Used Goo Gone to remove the glue residue.
Supplies
Using the twine (this is the one I used) I made a loopy rustic farmhouse bow.
To make this simple twine bow I wrapped the twine around my hand.
Then cut off the excess twine.
Pinching the loops so I could cut another piece of twine.
Tying the loops together. That's it finish in a few minutes.
Then I added a few wraps of twine around each bottle's neck and tied the rustic twine bow to the short bottle.
I started my first fall tray styling with a galvanized tray.
Then I placed a couple of wood slices under one bottle and filled in around the bottles with pine cones.
The wood garland and acorns have been added to this vignette.
More Inspiration
I have been working on some easy gorgeous fall decorating projects you are going to love so if you don't want to miss any inspiration join The Fall Inspiration Newsletter and get it delivered to your inbox.
Now for those special guests to delight and inspire you to try to create some Dollar Tree decorating for your home this fall.
More Dollar Tree Fall Decorating
This cozy Dollar Tree acorn had a cute Circut makeover by Olivia from Oliviaohern.com. Stop by her blog and grab your SVG files to make one too.
Yum, this looks so inviting for your all your fall meals. Lia from Southern Yankee DIY is ready for Thanksgiving and fall with her Dollar Tree pumpkin napkin rings.
Kerri from Mama Dares to DIY gave these Dollar Tree pumpkins and paint and ribbon makeover to delight all her guests this fall and Thanksgiving. I really love that burlap ribbon bow!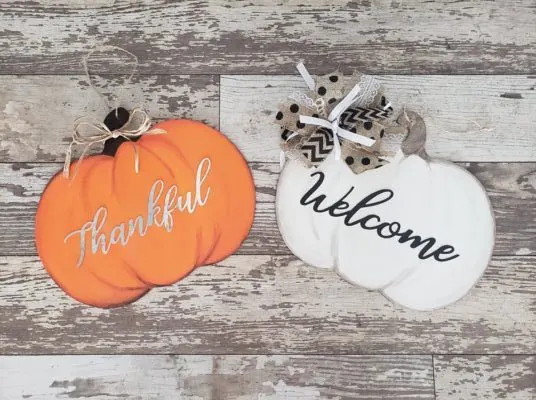 These Dollar Tree pumpkins got a gorgeous makeover. What could be better than velvet pumpkins in pink and blue? Michelle from Our Crafty Mom let's us in on her secret to making these showstopping velvet pumpkins.
More Fall DIY Decor
That was super fun and inspiring are you ready for fall let me know in the comments below.
Happy Fall,
Kippi