It seems like as soon as the children go back to school the relaxing months of summer come to a full stop and everyone is busy. Fall is a super busy time of year around here with the flurry of designing, creating and decorating for the holidays. I found a way to save a ton of time decorating and I wanted to share my best secret for making fall dough bowl arrangements in five minutes. Please join our Fall Newsletter so you get all our fall inspiration and tips and tricks.
5 minute dough bowl arrangements
I start with my vintage dough bowl.
This post contains affiliate links. This means that if you purchase from one of the these links I will make a small commission, but rest assured you will not pay more for any products.
Gather vase fillers
Pine cones
Burlap pumpkins
Unique items
Buffalo check pumpkins
Green velvet pumpkins
Then I gathered some vase filler burlap pumpkins.
These green velvet pumpkins with the small pine cones I could not resist.
I also selected some gray buffalo check pumpkins that add a touch of whimsy.
Natural elements add a cozy warmth are a must for my fall and Thanksgiving decorating.
This selection of round fillers was too interesting not to include.
Start adding to dough bowl
Starting with the natural filler elements and then adding the thriller elements.
The easy part is cutting the vase filler bags open and adding the elements to the dough bowl. When I added the rustic burlap pumpkins it give the arrangement a relaxed rustic look that will work in any room.
Adding a few burlap pumpkins to the dough bowl.
It looks good already I cannot wait to add more.
Adding a few items of different sizes, shapes, colors and texture makes the arrangement interesting. This makes a swoon worthy table decoration for fall and Thanksgiving.
Finished these gorgeous dough bowl arrangements in 5 minutes! I am happy with the results of all the interesting elements inviting my eye to stay a while and enjoy the arrangement.
The leaves I added for little extra green and variation.
The fall dough bowl arrangement is ready so now its time to set the table with a linen table runner, candles and place-settings.
Adding a wood bead garland with a tassel helps the eye to follow around the arrangement. You can see in the photo below I added two of my DIY Goodwill shirt pumpkins (learn how to make some from an earlier post) that are fun and whimsical.
More dough bowl arrangement ideas
I was having too much fun to stop there so I rearranged and added and subtracted elements for a different look. I added only one orange element and you can see how your eye goes directly to it and gets stuck there.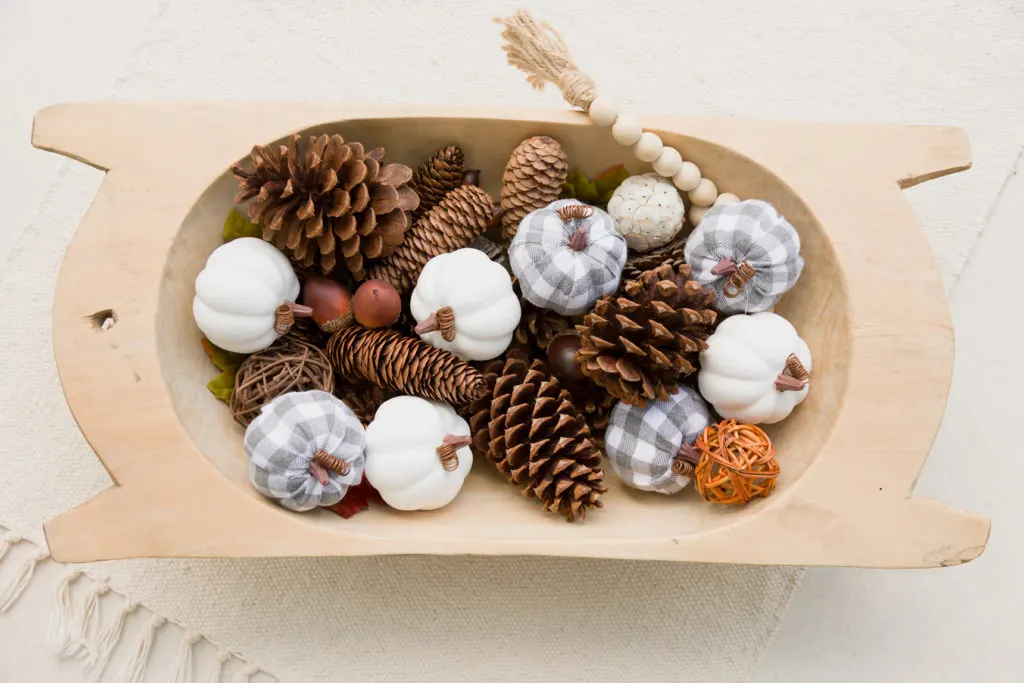 Then I removed the orange element and added green pumpkins and some other white elements.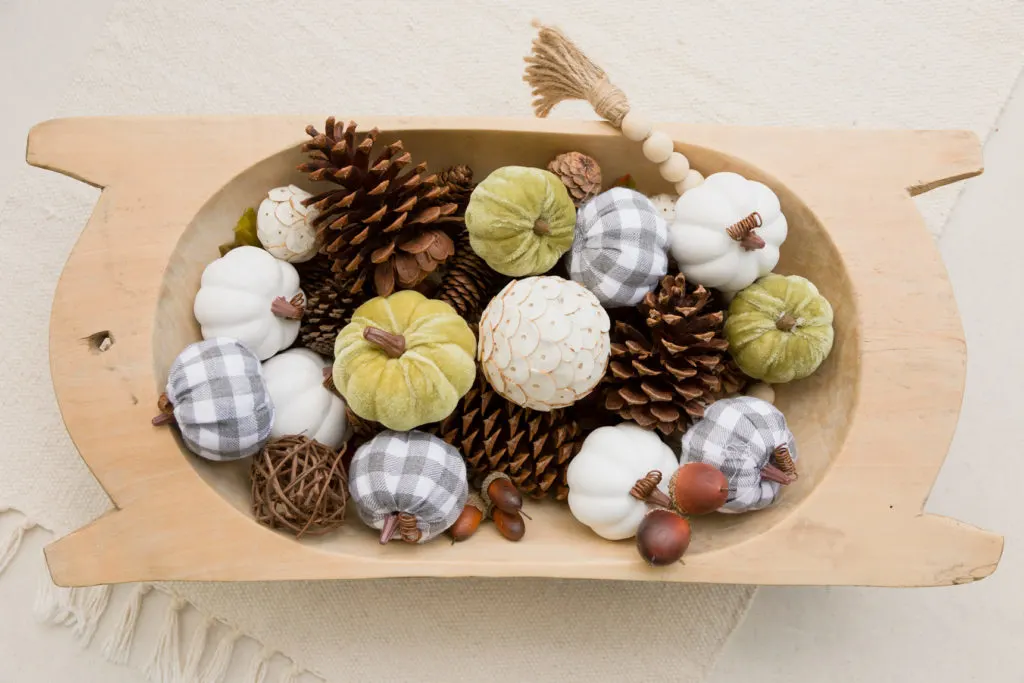 Adding 3 orange elements works much better since your eye travels around to see all 3 of them.
With some of the extra vase filler items I made a quick and easy display on the buffet table. Easy fall centerpiece in minutes is the perfect use for the extra fall fillers.
When planning your Thanksgiving center piece remember this 5 minute DIY Thanksgiving showstopping dough bowl arrangements and whip one up and delight your dinner guests. Add your personal touch with some easy sew (hand stitching) shirt pumpkins too see an earlier post about how to make some today.
You might also like these fall posts:
This is the best guide for bow making. Please pin for later!
Thank you so much for stopping by today. I hope you found some easy and quick fall inspiration. Please join the Fall Newsletter to get all the inspiration delivered to your inbox. I love keeping in touch so please say hello in the comments below.