Valentine Bunting DIY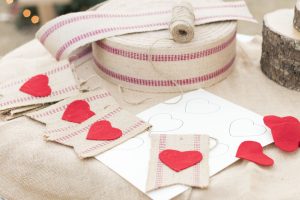 Valentine Bunting DIY is easy with the free PDF and step by step instructions. I needed to whip up something to add a bit of holiday fun to our family-room.  Also, I wanted to make something with materials I had on hand, so this was a breeze with our upholstery webbing, felt, and twine.
Materials List:
Webbing 2.25 yards
Red felt 1/3 yard
Hot glue
Twine 2 yards
You will also need:
Scissors
Hot glue gun
Ruler
Iron
Fabric maker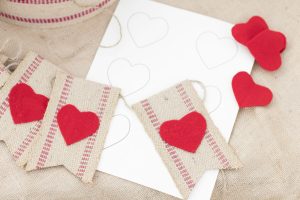 First step:
Download the FREE template for your Valentine Bunting DIY. Cut out the hearts with paper scissors and trace 11 hearts on the red felt with the fabric marker then cut out. Cut eleven  pieces of upholstery webbing in 7″ lengths.  Use webbing template to mark the cut out at the bottom of the flags into a snake tongue shape. Glue the hearts on the webbing flags 2.75″ down from the top edge.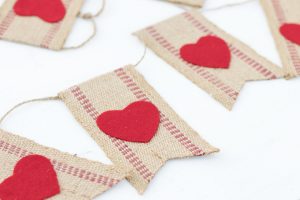 Second step:
Fold over 1″ of the top edge of the webbing flags then iron it down the fold. Leave an 18″ tail then start to glue the webbing flags onto the twine spacing them 3″ apart.
Third step:
Hang your new hand-made bunting any place that needs a little Valentine LOVE such as your fireplace mantel, buffet, window, etc. and enjoy.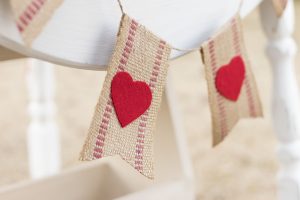 Downloads:
Comments
comments