Easy Felt Christmas Ornaments:
These easy felt Christmas ornaments are so budget friendly that you can make a ton of them. I designed and embellished them like traditional Nordic style ornaments. The ornaments are made out of craft felt, embroidery floss and a wee bit of fiberfill. However, there are a few with added yarn, buttons, bells, rick rack and glass beads.
This post contains affiliate links. This means that if you purchase from one of the these links I will make a small commission, but rest assured you will not pay more for any products.
My favorite ornaments are the pairs: the Gnomes and Gingerbread People. I did not plan on making the girls, but when I saw how lonely the guys looked I had to make them in pairs.
Making the patterns and cutting fabric:
The patterns are a simple download.  After you print out the patterns you can trace them with a water-soluble fabric marker. After you have the patterns traced out on the felt then cut them out in pairs (one front and one back) for each shape.
Embellishing the ornaments:
The best part of making these easy felt Christmas ornaments is the decorating. This is where you can really have fun and add your own flair. Once you are happy with the decorations it is time to start sewing the backs to the fronts.
Hand-sewing with embroidery floss and stuffing:
Hand-sewing the front and back will be in two steps. First sew most of it closed, but leave a small opening to stuff. Next, after putting a tiny bit of stuffing in the ornament you are ready to finish stitching it closed. I used the blanket stitch (learn how here) with embroidery floss to sew mine together, but you can use any type of thread or yarn and any stitches you like to close your ornaments. Mrs. Gnome has cotton yarn braided for hair. I used baker's twine as the ornament hanger. Ribbon could be used as the hanger too, but the baker's twine was so pretty with this vintage Nordic style collection I could not resist it.
I have gathered some felt ornament supplies to make shopping a snap. I love the scissors and needle brands I have listed below and they are worth the investment if you plan to use them for multiple projects:
Check back to see the full instructions and more photos of the vintage inspired sleigh tree stand I used in this post. I have been busy with lots of projects. I have some I have already completed and wanted to share with you for some more Christmas inspiration.
For More Christmas Inspiration See These Posts too:
Christmas Signs DIY see more HERE.
Hot Cocoa Bar Tour see more HERE.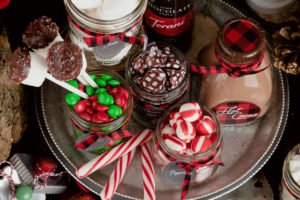 Easy Gnomes see more HERE.
Please pin this post for later:
Thank you so much for stopping by. Please let me know what you are crafting and decorating for your home in the comments below. I'd love to hear from you.
Happy Crafting,
Kippi
Comments
comments