Advent Candy Ribbon:
The Advent Candy Ribbon is a re-creation of the one my Grandmother gave me in the 1960's. Oh, how I loved her so. The advent candy ribbon is also a nod to vintage Christmas's past. My Grandmother raised her two son's (one was my Dad) in the 1920's through the 1940's. This was during the Great Depression, therefore Christmas was stark unless she came up with some free decorations. She used evergreens and berries to decorate for Christmas. They cut down a tree from the woods then made homemade ornaments and strings of popcorn for decorations. My Grandmother was the queen of up-cycling back before it was trending. She used out-of-date clothes and changed the collars and buttons from other clothes to make a "new" top or dress.
Now back to the advent candy ribbon she made me as a child. The peppermint candy was not as special to me as it had been for her son's during the depression since I could have candy any day of the week, but it was so special since she made it for me. I kept the typed messaged for 50 years and now I am sharing it with you.
This post contains affiliate links. This means that if you purchase from one of the these links I will make a small commission, but rest assured you will not pay more for any products.
I wanted to share how I re-created this vintage advent candy ribbon, so you can make some too. The kids will love them.
First step:
After you select the candy you would like you are ready to draw out your ribbon pattern. I used mini candy canes (2″ long by 1″ wide) so I cut the ribbon out of green felt 74″ long by 4.5″ wide which is twice as long as needed so I could fold it in half. I cut the point out of the bottom two inches.
Second step:
After measuring and cutting the felt it was time to figure out where to start stitching it together. With the felt folded in half I measured down 1.25″ from the fold and drew a chalk line. I used the chalk line as my stitching line and then stitched around the outside edge of the entire ribbon to hold the two halves together. The stitch line that is 1.25″ down from the fold created a pocket to slide the tree stem I used for the hanger to attach to.
Third step:
After completing the stitching I started measuring and chalking where I would place each candy cane so then I could put on the ties to hold the candy. Then I started by first measuring down 3.75″ from the stitch line so I would have room saved for the message. I needed 8 rows of 3 to complete the advent candy ribbon. I used red embroidery floss for the ties and a cute red jingle bell at the point and used double sided tape to attach the message. Please note: the message is available in a download below. Last thing was the hanger. I first used red yarn like the one from my Grandmother, but it looked so thin so I went with ball fringe.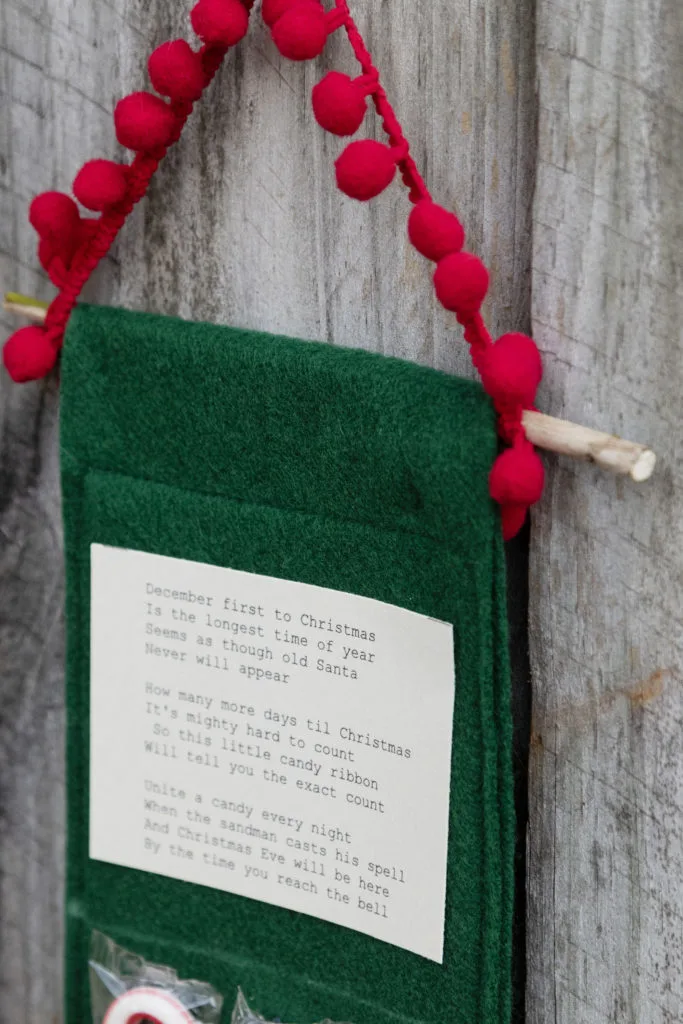 The photo below is the message from advent candy ribbon my Grandmother gave me years ago. You can still see a bit of the green felt left on the glue.
These candy ribbons are so easy to make and budget friendly too you can make them for all the sweet little children in your family. This one is going to my sweetest friend's first grand-baby for Christmas.
I have gathered some supplies to make it a breeze to find everything you need to craft some of these.
Other DIY Christmas ideas you might like:
The Felt Ornaments are adorable and vintage inspired you can read more HERE. Mr. Gnome takes only minutes to make and he will make you smile. Read how to make them HERE. My famous Hot Cocoa Bar has the best caramel sauce recipe (only 3 ingredients) and a free label and message board download learn more HERE.
Are you ready for Christmas? I am working on my Christmas morning menu…been pinning some great make ahead breakfast recipes. Let me know in the comments what you are working on for Christmas.
Happy Holiday Season,
Kippi