Winter coffee break is music to my ears. Oh, how I adore a coffee break any time of year. The joy of a great quality cup of coffee and fresh-baked fruit bread savored during the bleak winter months is the best. Winter is a break for the earth and I find I can relax and enjoy this "break" too. Using a French Press is my preferred method for brewing the perfect cup of coffee on a winter's day. The smell of the grinding coffee beans and the baking bread are part of the experience. You definitely want to invite over girlfriends to share this wonderful coffee break.
The Cranberry Nut Bread is so moist and flavorful it will be a favorite. Easy and basic just like the wonderful coffee brewed in the French Press. My sister gave me this wonderful recipe years ago and we still look forward to the winter coffee break with her Cranberry Nut Bread recipe.
This post contains affiliate links. This means that if you purchase from one of these links I will make a small commission, but rest assured you will not pay more for any products.
French Press:
Recipe for the perfect cup of coffee:
1. 4 cups French Press
2. 2 cups of 200 degrees Fahrenheit water
3. 26 grams of whole coffee beans
How I brew the perfect cup of coffee in a French Press is I start with fresh ground coffee and hot water (200 degrees Fahrenheit). First, I pour the fresh ground coffee into the French Press and add enough hot water to cover the grounds. Then, I stir and let the coffee bloom for one minute. Then, I add the remaining water and stir. I put the lid on and set the timer for 3 minutes. After the 3 minutes, I push the plunger down and pour the wonderfully fresh coffee into my favorite coffee cups. Enjoy!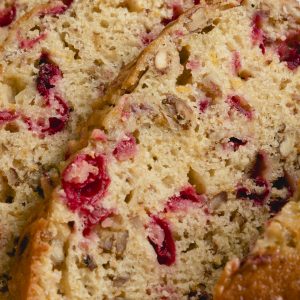 Ingredients
2

cups

flour

1

cup

sugar

1 1/2

tsp.

baking powder

1

tsp.

salt

1/2

tsp.

baking soda

3/4

cup

orange juice

2

Tbls.

shortening

solid blend with pastry blender into dry ingredients

1

Tbls.

orange zest

1

egg beaten

1 1/2

cups

cranberries coarsely chopped

1/2

cup

chopped nuts

I use pecans
Instructions
Preheat oven 350 degrees.

Mix everything together by hand except the cranberries and nuts.

Fold in 1 1/2 cups coarsely chopped cranberries and 1/2 cup chopped nuts.

Grease loaf pan.

Bake 55 minutes.

Let cool 15 minutes.

Then turn out of pan.

Bon appétit!
Pin Recipe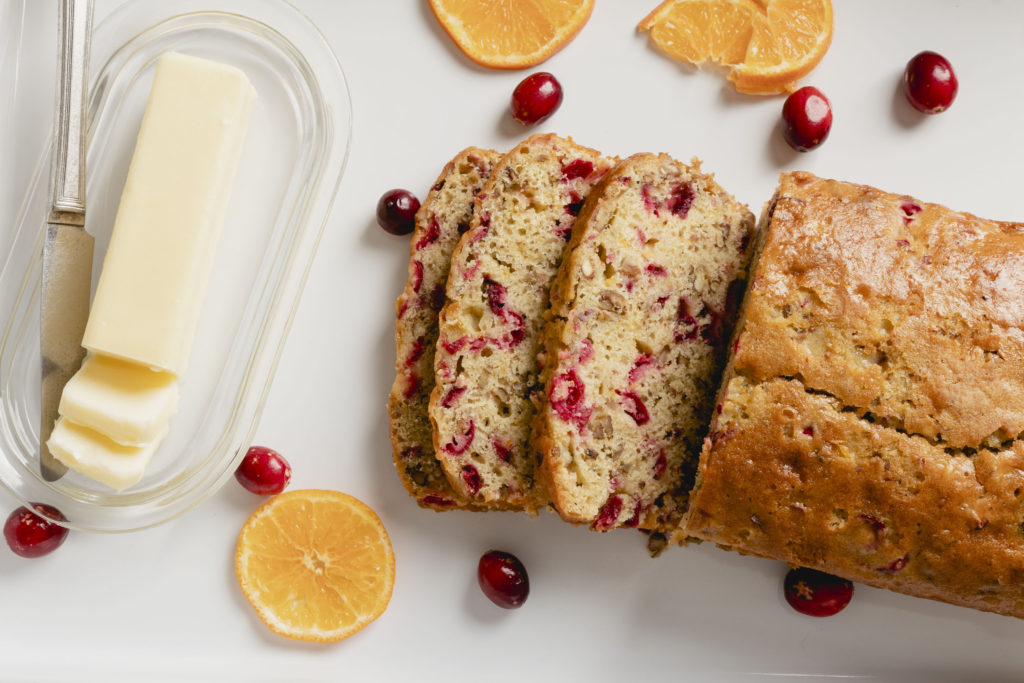 Serving coffee and Cranberry Nut Bread:
I serve the bread while still hot from the oven so coordinating the timing of both the brewing of the coffee and the bread bake time is imperative to serve both hot.
You might also like my visit to a she shed coffee station:
My Amazon picks are:
I am looking forward to making a loaf of Cranberry Nut Bread and a pot of French Press Coffee tomorrow. Please join me and relax and savor the winter. I would love to hear what you are planning this winter to help you relax and recharge before the busy spring. Let me know in the comments below.
One last thing,  I want to invite you to join me for a Stress-Free Thanksgiving by subscribing to my Thanksgiving Newsletter you will receive everything you need to plan and host a stress-free Thanksgiving. Click here to join me.
Have a great day,
Kippi