My $50 office window treatment makeover started out as an organization challenge:
A few weeks ago I was approached by a fellow home-decor blogger about joining a $50 organization challenge with a group of bloggers. I decided I would take the $50 organization challenge. What was I thinking? It seemed impossible to do anything with only $50, but if anyone could do it these ladies could. You can see their challenge results at the end of this post. After accepting the challenge I needed to figure out what I could organize with only $50. I have been looking at a disorganized mess in my office for years. Why not start there?
Before and After:
The before valance was beautifully constructed but a little dated so it was clear that my office needed a window treatment makeover, and I was ready for something with cleaner lines and that had that WOW factor. I adore the black and white buffalo check, so why not just go for it?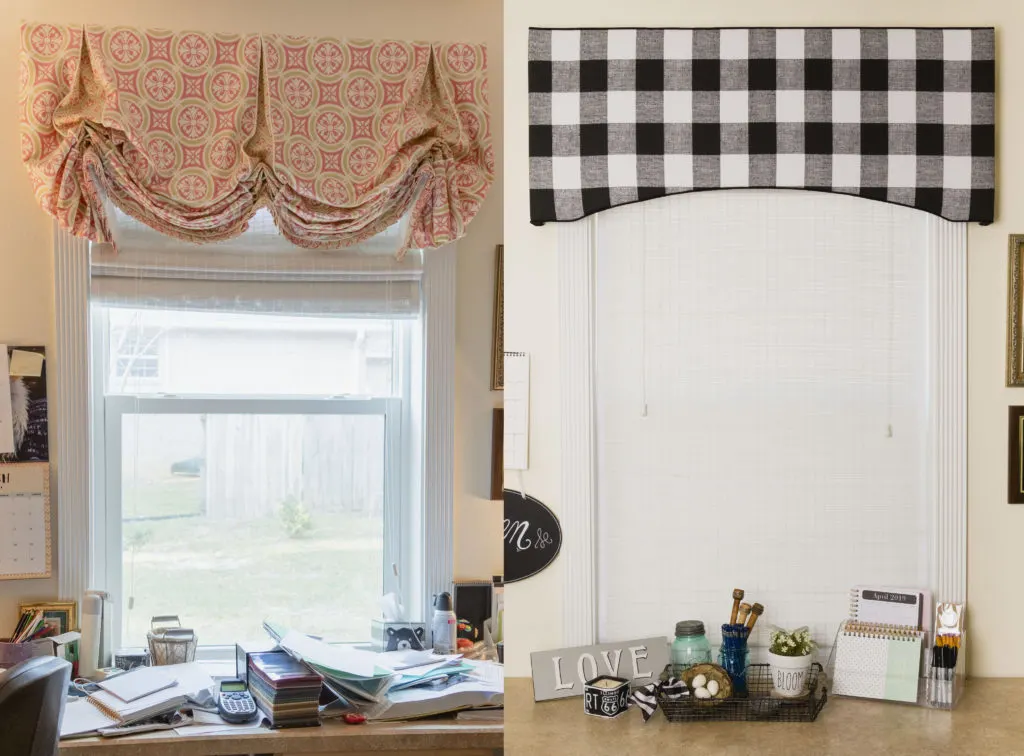 After seeing the before photo I had to be honest with myself and ask why had I not noticed what a mess my work space had become. Embarrassing as it is this was how it looked when I began this journey.
Organizing:
I have never done any decorating or organization with pretty containers in this room, since is not seen by anyone but our family. My attitude was so why worry with it? This challenge has definitely changed my attitude about that. It is so relaxing and enjoyable to work in an area that is organized and decorated with some pretty items.
First step was to put away all items that have a home.
Then to decide what to keep and what to toss from what was left out.
Now to organize the items that I am keeping.
Then the

cleaning

of the desk top, dusting, vacuuming the floor and baseboards.
I decided after getting everything cleaned up and organized that I wanted use a new valance to complete the look.
The best part was I had left over fabric from another project I could use for a new window treatment. I had everything leftover from other projects, except the black fabric for the cording. My daughter picked up some black fabric for me ($8.00) and I was ready to start constructing my new window treatment. I feel like I cheated on this challenge since I only purchased the black fabric since everything else I already had on hand. I will be looking for a splurge for my office tomorrow while I am out with a blog friend checking out what A.C. Moore has on sale for spring.
Items for organizing:
Vintage jars
Clear plastic organizer
Basket
Please note I did not purchase any of these items I had all of them on hand. Win win for my budget and for my organizing makeover.
This post contains affiliate links. This means that if you purchase from one of the these links I will make a small commission, but rest assured you will not pay more for any products.
Window Treatment Makeover – Valance Cornice:
I had left over buffalo check fabric from another project and I love it so I decided to use it. The details that say custom are centering the fabric pattern, cording, clean finishing. First thing was to decide the size and shape of the window treatment. I used craft paper to make the pattern.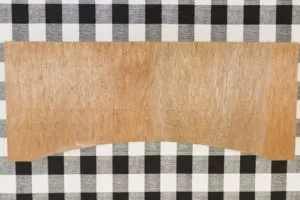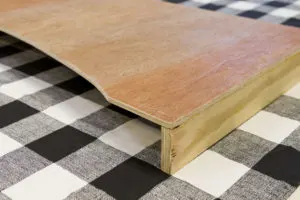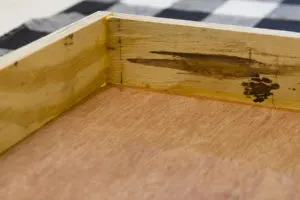 Determining the placement of the valance/cornice on the fabric.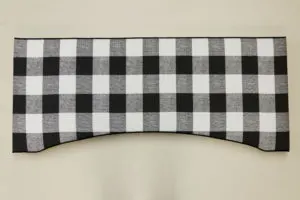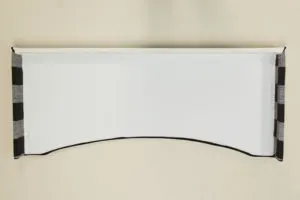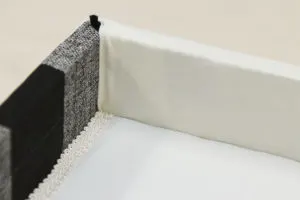 So happy with this valance so far. I cannot wait to install my new window treatment.
I LOVE the love sign see how I made it HERE.
Pretty Organization:
Rae Dunn Inspired Flower Pot DIY:
My favorite candle smells so fresh and clean.
I painted bloom flower pot this past weekend and my sweet daughter used her Cricut Maker to add the Rae Dunn inspired word bloom. So easy to get this look I will add the file below.
Easy Desktop Organizer:
The clear plastic desktop organizer I purchased months ago see my source HERE.
I had the counter top made for my office in 2011, however, I still love it today. It extends around 3 walls so it can accommodate a large amount of office equipment. I have multiple computers, files and my Cricut Maker on the counter. It has served me well for years, but it needed to be updated. $50 office window treatment makeover and organization has breathed new life into my tired office area.
That was fun and you will not believe the amazing transformations my fellow DIY bloggers have done with a $50 budget . Please hop on over and checkout there masterpieces. You definitely don't miss any of their inspiration.
Thank you so much for stopping by,
Kippi
Please visit all the blogs on the $50 challenge tour:
Rufus & Henrietta DIY Wrapping Paper Storage
Southern Yankee DIY $50 Coat Closet Makeover
Rocky Canyon Rustic DIY Bathroom Organization
Joyful Derivatives DIY Blanket Ladder
Never Skip Brunch Sunglass Holder
The DIY Nuts DIY Midcentury Modern Dresser Makeover
Sand Dollar Lane DIY Boot Tray
Emory Farm Easy DIY Corner Cabinet Organizer
1905 Farm House DIY Jewerly Wall Organizer
Handmade By Ashley DIY Dust Collection Cart