What could be better than a clean and fresh wingback chair slipcover? The sweetest of clients called me about a chair she wanted to have slipcovered. The wingback chair was going to be in her vacation house at Alys Beach, Florida. Alys Beach is one of the most beautiful beaches in the world. *No pressure to make this a beautiful slipcover.*
Wingback Chair Slipcover
Please subscribe in the box below and become an insider as a result you will get all my freebies and inspiration delivered straight to your inbox:
Slipcover Fabric
The slipcover needed to be cozy and washable. The best choice for this project was a twill (cotton bull denim). I am sharing my secret supplier for the best cotton bull denim HERE.
Special Notes
Did I mention that I LOVE to slipcover chairs with bull denim twill? They look wonderful and this fabric is a dream to sew. I have found that it is best to wash and dry all cotton slipcovers before making slipcovers to insure that they don't shrink after they are constructed.

This was a fun date-night with Mr. Kippi. I know he loved helping me wash and dry 55 yards of cotton bull denim on a Friday night.
This post contains affiliate links. This means that if you purchase from one of the these links I will make a small commission, but rest assured you will not pay more for any products.
See what I mean as a result we had pure joy on this date.
Slipcovers start with a plan
My official cut plan (aka spiral notebook), pencil and measuring tape. I start every chair slipcover design with all the measures so I can plan the design.
My favorite glass head pins and UV protective thread make a quality slipcover. Do you see my favorite scissors? I have 7 pairs of them because they are the most important tool I use.
This is my happy place for sure. Sitting at my favorite sewing machine creating something beautiful for a special client.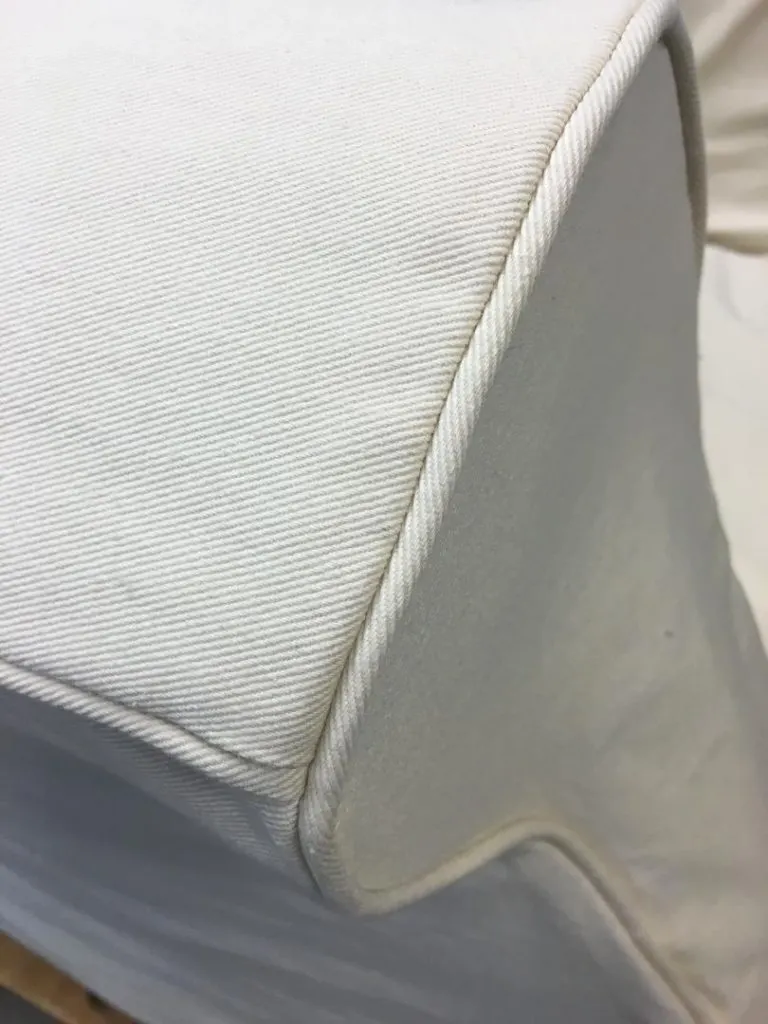 Notice the cord junction in the arm where I removed a little of the outside arm cord to reduce the bulk.
My Amazon Picks
You Might Also Like
Thank you so much for stopping by. I like meeting new friends and visiting with old friends too. What projects are you working on to beautify your home? I would love to hear about it in the comments below.