It is time for another DIY makeover ordinarily a makeover could take us months, but not this time. The last makeover challenge was our laundry room/mudroom and it turned out better than I had dreamed possible. You can see how it turned out in this earlier post.
I have joined some other creative bloggers as a participant in the One-Room-Challenge. The challenge is to makeover a room in six weeks.
If you're new to the ORC, it's a semi-annual event hosted by Linda from Calling it Home and Better Homes & Gardens that allows bloggers from all over to support each other through a space makeover during 6 weeks.
Not only do we take you along on the project and our entire process, but we also link up to the ORC page so everyone can follow along and support all the other projects! Check out more information and all the amazing projects on the Better Homes and Gardens One Room Challenge HERE.
I enjoy a challenge to keep motivated while I update my house one room at a time. Did I mention I only have six weeks? That is like overnight in the makeover world. No time to sit around thinking about it I had to just jump in and get started.
I started my plan by creating a Master Bedroom Ideas board on Pinterest so I could save master bedroom suite ideas that I liked. After pinning all those beautiful master bedrooms I as ready to get the plunge and start a master bedroom makeover.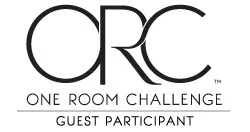 Master Bedroom
I purchased my first antique (washstand) when I was 17 years old and it started my antique collecting journey. However, my antique furniture has created a design dilemma for my master bedroom design in so far as how to marry the antiques with current home decor trends.
I needed help, therefore, I called my friend, Jessica, for some expert advice on incorporating antiques with modern (current trends) and she gave me some great advice and she shared the design rendering below. Working with interior designers can help you move past those design dilemmas to achieve the look you dreamed about.
Want to follow along and be sure you don't miss any inspiration? You can have all this inspiration delivered straight to your inbox click HERE.
Mood Board
This post contains affiliate links. This means that if you purchase from one of these links I will make a small commission, but rest assured you will not pay more for any products.
The mood board depicts the items to be added to the room to update it into a fresh modern vintage beautiful master bedroom.
Items to order:
1. The prints are reprints of vintage French floral prints.
2. Lamps
3. Candlesticks
4. Faux Plants
6. Basket
7. Throw
8. Pillow
9. Side table
10. Flower lamp
11. Rug
Also:
Woven wood Roman shades
Window treatment fabrics
Bedding fabrics
Headboard fabric
The inspiration for the room is a painting my Grandmother gave to me when I was 13 years old. She told me the painting was a painting by her father (my great grandfather) to use to get a job.
She said he carried it all over Washington, D.C. because he could not ride his bike and hold it. You will not believe what job he was applying for so check back next week for more on that.
The wall color needs updating together with the ceiling, so that will be our first week's challenge to get that finished.
The quilt on our bed is a double wedding band design and it is almost 30 years old and it needs to be replaced with all-white bedding similar to bedding I made for my daughter's bedroom.
The lawyer's bookshelf will be moved to another room but the other pieces and a few more that will stay. The ceilings have been damaged by a leak and the popcorn is so passe. The bedside tables are vintage but don't match anything in the room, however, the height is perfect for this reason they are staying.
This post contains affiliate links. This means that if you purchase from one of these links I will make a small commission, but rest assured you will not pay more for any products.
Unfortunately, you cannot see my gorgeous trellises with flowering vines just outside this window since this window is fogged, hence this is to be replaced during week one.
The Plan
Remove the popcorn ceiling (just like we did in our guest room)
Add shiplap
Paint ceiling and walls
Add recessed lighting (new light fixtures) and change out all electrical outlets and switches
Replace windows
Retrim the windows
Replace floors (remove carpet and lay wood floors)
Make and install baseboards
Build and upholstery a headboard to attach to the bed frame
Paint bedside tables (white to blend with the color scheme)
Make pillows, window treatments, and bedding to make this space feel luxurious and cozy
Install window treatments, and decorate
Bonus if there is time: Upholster a vintage chair to create a seating area
The room's color palette was inspired by nature, for instance, the brown furniture reminds me of tree bark, the greens are the leaves and pink for flowers. The focal point of the room will be the bed, thus it should be both luxurious and cozy. To achieve the goal that I will use layered bedding, a throw, custom throw pillows, and custom headboard.
Aside from the bedding, the area rug will draw the eye to the bed area and soften the wood floors. The white walls and ceiling will disappear, thus allowing the furniture, artwork, and soft furnishing with their mix of color and patterns to take center stage in this master bedroom design.
I have dreamed of having a chair in the corner with a little side table and floor lamp to take an afternoon tea time with a good book consequently if we run out of time it will not be in this makeover, but it will be completed soon.
Our laundry room was from the last One Room Challenge makeover from this past fall. It is still like a dream come true every time I walk in there.
Thank you so much for your visit today. Please visit the other ORC makeover challenge rooms too.
See you next week with our room makeover updates.
Have a great week,
Kippi