Simple Make Ahead Meals:
Mealtime can be a breeze with these simple make ahead meals. These recipes are not just simple and easy, but healthy too. I love to able to cook once and eat for days. Less time, less cleanup, less stress, therefore I have more time for fun with my family. I have also noticed we are not grabbing meals out so we are saving money too. That is a win win for me. Healthy, money saving, and more family time!
Ingredients:
Start by gathering everything you will need to make these easy meals.
3 lbs. Ground Turkey 93% lean
2 Sweet onions
3 to 4 Fresh tomatoes
2 Large sweet peppers (green, red, orange or yellow)
Can re-fried beans (low-fat)
1 Lime
1 Jar salsa
1-2 Cans red kidney beans
2 Cans petite diced tomatoes
3 Spring onions
2 Avocados
Small container of Greek yogurt (fat-free) or sour cream
1 Package tortilla (whole-wheat or low carb)
Spices:
Chili powder
Cumin
Oregano
Paprika
2 Garlic cloves
3 Tablespoons coconut oil
Step one:
Melt 1 tablespoon of coconut oil in a 4 to 6 quart Dutch oven on medium low heat. Add ground turkey and cook until no longer pink. I use a metal pancake turner and chop up the ground turkey as it cooks. Stir and chop while it cooks. Note: I had to add a little more coconut oil during the cooking time. When the ground turkey is thoroughly cooked I separate the meat into 3 glass bowls.
Step two:
Select which recipes you want to cook. I used 1/3 of the turkey for chili and 1/3 for my special Kippi's Fajita's and 1/3 I put in the freezer.
Kippi's Healthy Fajita's:
This super easy fresh and healthy recipe will be a family favorite.
See the complete recipe HERE.
Chili A La O'Hern: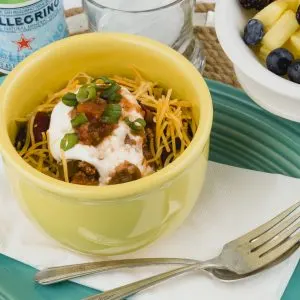 Ingredients
1

Tablespoon

coconut oil

1

Garlic clove minced

1

Sweet onion chopped

2

Sweet peppers seeds removed and chopped

2 14.5

oz

Cans of petite diced tomatoes

1 - 2 15.5

oz

Cans of light red or dark red kidney beans

2

Tablespoons

chili powder

1

lb.

Cooked ground turkey

97% fat free

Garnish: Spring onions chopped

Optional: Greek fat-free yogurt

salsa, and shredded cheddar cheese
Instructions
Heat coconut oil in a 4.5 quart Dutch oven over medium low heat. Add minced garlic. Allow to cook for 2 minutes then add onion. Continue to cook for 2 minutes.

Add green peppers to Dutch oven. Turn up heat to medium. Cook for 3 minutes stirring not allowing to brown.

Add both cans of petite diced tomatoes.

Next, open a can or cans of beans (use 2 cans if you enjoy lots of beans) and rinse in a colander. Then add to Dutch oven with 2 Tablespoons of chili and cooked ground turkey. Heat at medium heat for 5 minutes then turn down to simmer and cook for additional 25 minutes.

Serve in chili bowls with desired toppings: Greek yogurt, salsa, spring onions, and shredded cheddar cheese. Enjoy.
Pin Recipe
This post contains affiliate links. This means that if you purchase from one of the these links I will make a small commission, but rest assured you will not pay more for any products.
Storage:
Now for the extra pound of cooked ground turkey. I purchased these Rubbermaid Brilliance Containers for my Make Ahead Meals. They are the perfect size and shape to store, freeze and reheat. Before using them I washed them in the dishwasher.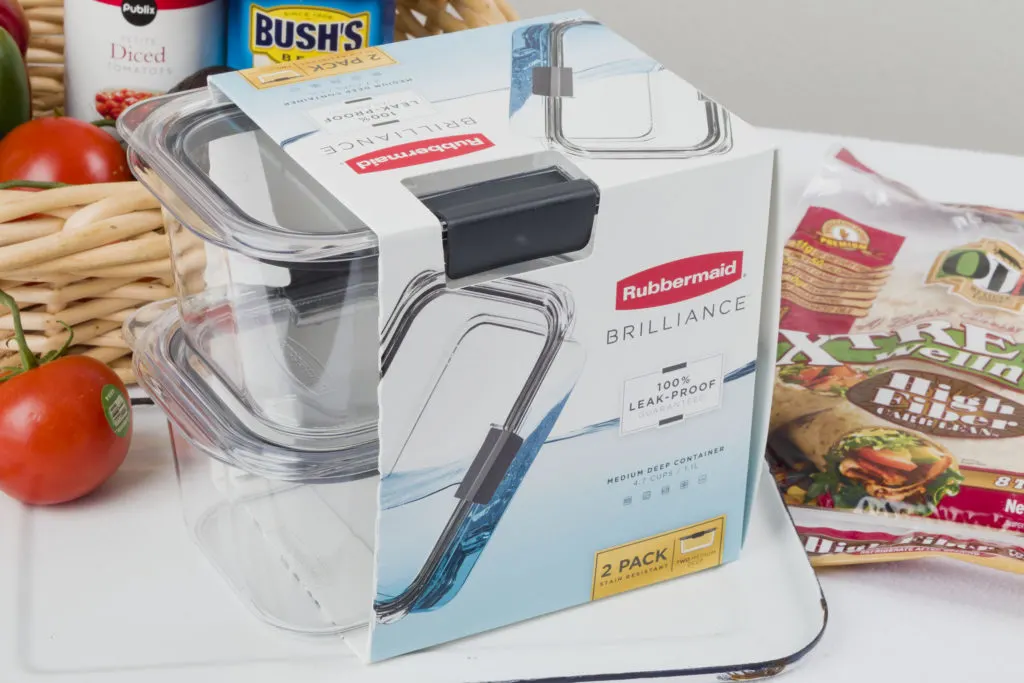 Please note that before storing any food items place a label on the container with the contents and date stored.
Every month I will be joining my friend and fellow gourmet, Denise from Swellegant Life to share our favorite Make-Ahead Meals. Her Make-Ahead Ranchero Sauce is on the menu this month so hop over to her blog, Swellegant Life and grab that recipe too.
You Might Also Like:
Make-Ahead Slow-cooker Pulled Pork
My Amazon Picks:
Thank you so much for stopping by. I hope you are relaxing and enjoying your family time with these easy make ahead meals. Please let me know what's for dinner tonight in the comments below.
Bon appetite,
Kippi