Early fall calls for a gorgeous sunflower wreath. I am not ready for the muted colors of autumn just yet; however, next week, the kids go back to school, and I am slowly transitioning into my fall decor.
I wanted to share the easiest way to make a wreath and bow.
How to Make a Sunflower Wreath
This post contains affiliate links. That means that if you purchase from one of these links, I will make a small commission, but rest assured, you will not pay more for any products.
Then I added a little more greenery and some yellow seed flowers, and now I love it.
This sunflower wreath is perfect for late summer and early fall decorating. I start by gathering my sunflowers and white basket, and then I select my ribbons. If you have been following my blog, I know I love to use more than one ribbon for a bow. Less is more does not apply here.
Wreath Supplies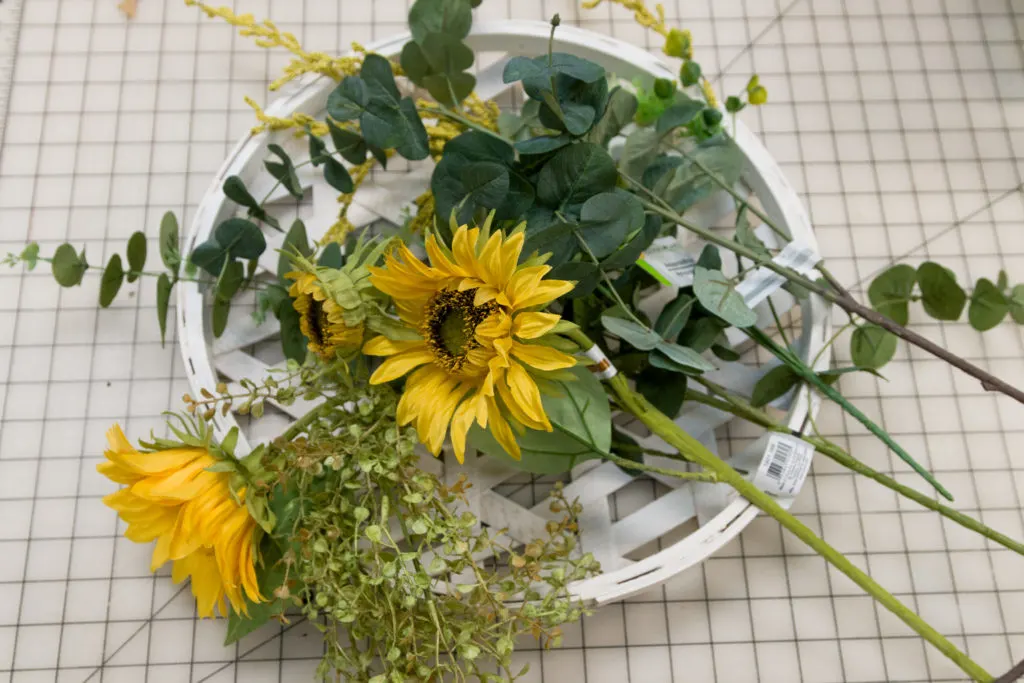 Then I start adding sunflowers and greenery; then, I add more floral picks to create the boutique for the wreath. Note: the weeping foliage I decided not to use. That is how creating goes as you add and subtract until you like the final look.
First, using wire cutters, I cut my floral picks apart and placed them in a pile on my work surface. Then I choose my feature flowers, and I hold them together, making them into a bouquet. Next, I start adding greenery and so on until I like the look. Then I use a pipe cleaner and tie the bouquet together at the bottom.
To attach the bouquet to the basket, I use the same pipe cleaner I used to tie the floral together.
Easy Ribbon Loop Bow
I recommend you watch this video (click here to see the video) before making the bow. It is the same bow for a different wreath.
Supplies
I like to use three different ribbons for this bow. I cut two of each ribbon at 27″ and then folded over about 6.5″ to form the loop.
Place the loop ribbons in three stacks so they are easy to use, and cut a piece of wire 18″ long and set it aside.
With the loop's short end facing me, I gather and pinch about 1/2″ from the short end.
Then I do the same thing with the rest of the ribbon loops.
Then using the wire I cut earlier, I tie the ribbons together to form the bow.
Using the ribbon wire, I attach the bow to the bouquet.
Olivia made the embroidery hoop ornament. She used her Cricut Maker, which took only minutes to whip up.
I used a smaller black and white check ribbon to attach the fall embroidery hoop decoration.
The last thing I do is fluff the bow and cut the ribbon streamer tails.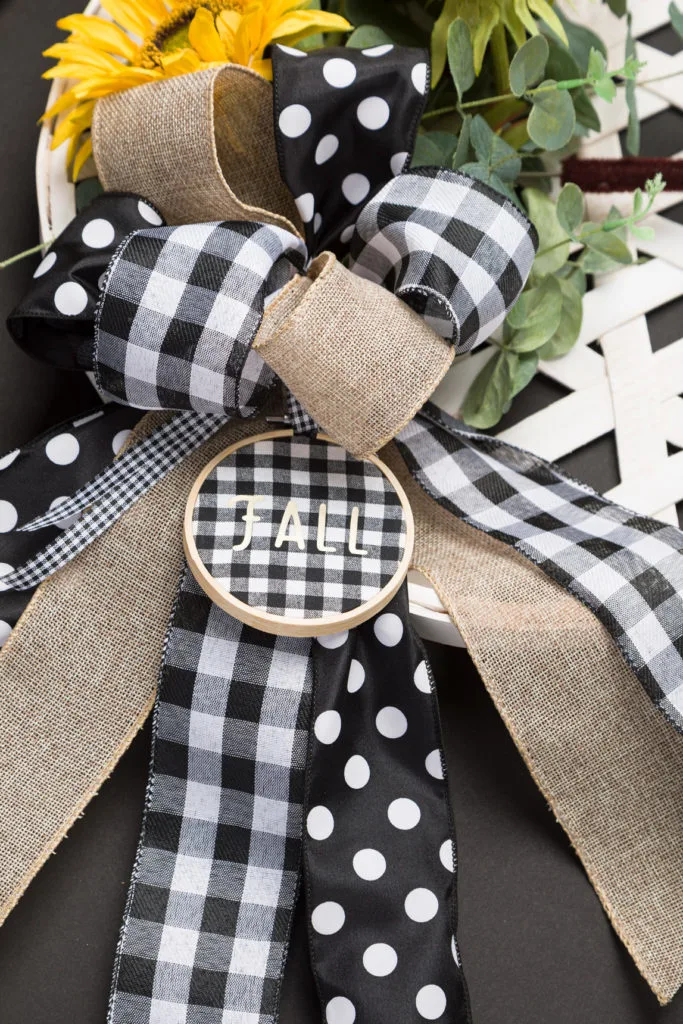 Fall Embroidery Hoop
You Might Also Enjoy:
These are the easiest handmade bows ever.
The bright yellow sunflowers paired with the black and white buffalo check and polka dot ribbon makes a statement on your front door. It makes me happy! Want to see more gorgeous handmade wreaths? You will be amazed they range from a succulent, farmhouse, vintage style, and elegant, so hop on to see my favorite fall wreaths.
Do you make your bows? What is your favorite way to make a bow? Please let me know in the comments.
Happy Fall,
Kippi