Don't you LOVE fall? I sure do with all the fun activities and decorating. So to inspire your fall decorating, I have gathered up over 50 of the best pumpkin decorating ideas that you will love! This is going to be the only pumpkin decorating inspiration you will need this fall.
Fall Pumpkin Decorating Ideas
These ideas include a rustic, farmhouse, teal, Dollar Tree, paper, fabric, floral, painted, sewn, mason jars, tin cans, rocks, buffalo check, and more.
Rustic Farmhouse Pumpkins decorating ideas
These easy Rustic Pallet pumpkins are perfect for decorating indoors and outdoors.
These bright-painted pumpkins were cut with the same patterns as the muted pumpkins in the above photo. However, painting them with the same paint but brighter gives them a different look.
Goodwill shirt easy sews pumpkins by Kippi at Home. These cuties have been a favorite with their cozy plaid flannel shirt fabrics. They only take minutes to make and are so easy even the kids can make them.
Olivia Ohern created this cute pumpkin garland. I adore garlands of all kinds, but the cute pumpkins are among my favorite. They are perfect for all my fall, Halloween, and Thanksgiving decorating.
Elegant Dollar Tree pumpkins transformed into high-end decor by Kippi at Home.
Wood beaded rustic pumpkins by Our Crafty Mom. This cute wood bead pumpkin adds texture and whimsy to your fall decor.
Wood pumpkins by Our Crafty Mom. These are so easy and clever!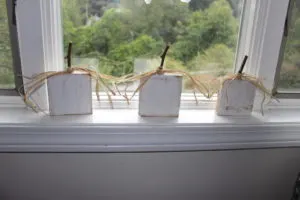 DIY yarn pumpkins are easy and fun to create.
Fabric pumpkins
Buffalo check pumpkin pillow applique by Kippi at Home. Since I love buffalo check, I could not resist making this fun pumpkin pillow to coordinate my decor.
Fabric pumpkins by Sustain my My Craft Habit.
Stripe fabric pumpkin by Zucchini Sisters
Super easy sweater pumpkins by Sustain My Craft Habit.
Teal pumpkins
These teal pumpkins are my part of the Teal Pumpkin Project pillow by Kippi at Home. I love black and white, so adding this teal pumpkin made this a fun Teal Pumpkin Project pillow.
Bling teal pumpkin by Olivia Ohern.
These adorable sisters made these Teal Pumpkin Project pumpkins.
Learn how to add Succulents in a teal pumpkin by Our Crafty Mom.
Dollar Tree pumpkin makeovers
Door hanger pumpkin created by Olivia Ohern.
Easy DIY Halloween door hanger by Olivia Ohern.
Pretty pumpkin napkin rings by Southern Yankee DIY.
Neutral fall mantel with Dollar Tree pumpkins by Create and Find.
Fall Dollar Tree pumpkin trio door hanger by Olivia Ohern.
Harvest door hanger with Dollar Tree splatter screens by Farm Girl Reformed.
Pretty decoupaged Dollar Tree pumpkins by Our Crafty Mom.
Stunning velvet pumpkins made by Our Crafty Mom.
Cute buffalo check pumpkin DIY.
White painted chic Dollar Tree pumpkin makeover.
Learn how to make these Easy faux concrete pumpkins.
Boho Vinyl Pumpkin
This black Target Dollar Spot pumpkin was transformed with vinyl diamonds by Olivia Ohern
Pumpkin wreaths
Pretty pumpkin wreath and bow by Kippi at Home.
Black and white Halloween wreath with gorgeous bow how to by Kippi at Home.
Holographic pumpkins
Black pumpkin with Cricut cut holographic polka dots by Olivia Ohern.
If you love sparkle, then you are going to love this Pretty white holographic pumpkin.
Painted pumpkins
This lovely no-carve midnight pumpkin is perfect for fall and Halloween.
Pumpkin recipes
Yum, four different ways to roast pumpkin seeds by Sustain My Craft Habit.com
Paper Pumpkins decorating ideas
Enchanted book pumpkin.
These gorgeous Printable pumpkin place cards are perfect for Thanksgiving.
Upcycled pumpkins
Cute upcycled jar Jack O' Lantern by Olivia Ohern.
Mason jar pumpkins created by Sustain My Craft Habit.
Sustain My Craft Habit created this happy tin upcycled pumpkin.
Pumpkin porch decor
Ten minutes to decorate a fabulous fall porch by Sustain My Craft Habit.
Pumpkin vase
Make a pretty mini pumpkin vase for fall.
These easy pumpkin decorating ideas are perfect for fall, Halloween, and Thanksgiving.
Please pin for your fall inspiration:
Thank you so much for visiting today. I hope you found some inspiration. I invite you to join my Fall Inspiration Newsletter and have amazing fall inspiration delivered to your inbox.
Happy Fall!!!
Hugs,
Kippi