A DIY Christmas wreath with a gorgeous bow welcomes your family and guests during the holiday season.  It is so fun and inexpensive to DIY your own wreaths and bows to coordinate with your decor.  I have joined some amazing bloggers who are sharing their best DIY wreath and bow ideas for a ton of inspiration.
DIY Christmas Wreath
The stores only get one shipment of Christmas crafting supplies, thus if you see it and like it don't wait to grab it. Below I made a list of items to start stocking up for all your Christmas and winter DIY'ing.
I wanted to invite you to join me on more creative adventures, recipes, decorating and more. It's so easy just fill out the form below and you are on your way.
Wreath Making Supplies
When I am planning to make a wreath I start with my wreath form and then I choose my floral and ribbons for my bow.
This post contains affiliate links. This means that if you purchase from one of the these links I will make a small commission, but rest assured you will not pay more for any products.
Floral picks
Wire
Pipe cleaners
Ribbons
Wreaths Tools
I like to craft, but I have found that having the proper tools makes it so much more enjoyable. My must have tools are sharp scissors, high quality wire cutters, wireless glue gun (ask Santa for this one), and a craft mat.
How To Make a Christmas Wreath
Over the years I have been asked how to make a wreath and how to make ribbon bows, so I thought I would make a video to show my techniques for easy bow making.
This gorgeous wreath will be hung in my home over my "new" rustic farmhouse blanket ladder my husband made for me to hang my DIY Modern Farmhouse Christmas stockings on see that post HERE.
DIY Christmas Wreath Making Step by Step
First step making a homemade wreath is to gather your supplies and tools on your mat.
Wreath supplies
Then cut apart your floral picks and bushes.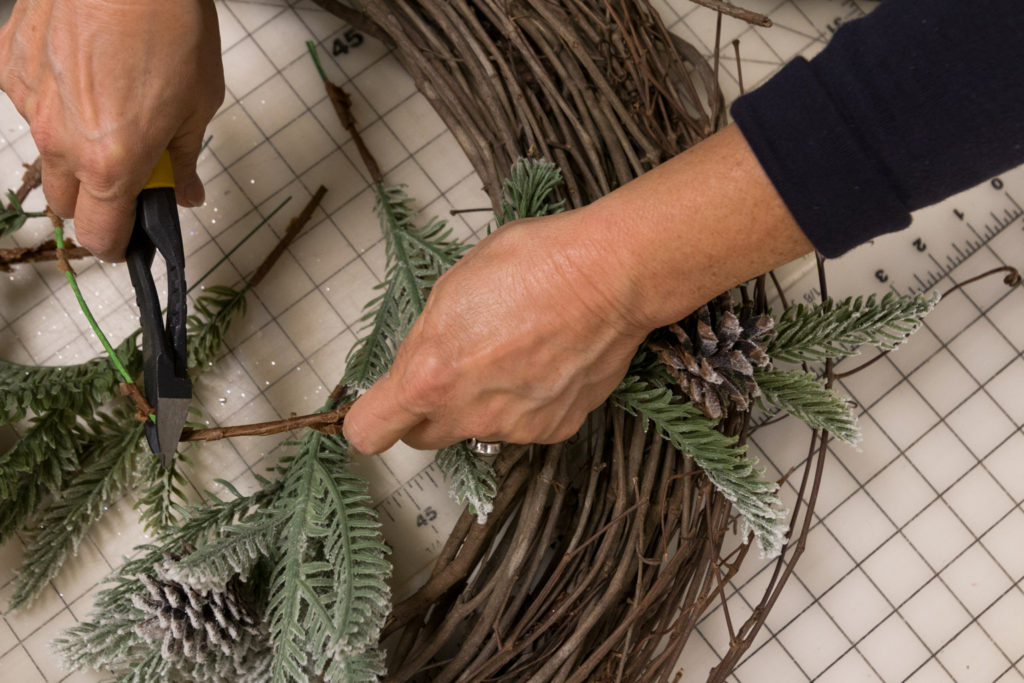 Cutting the pine floral bush apart
Now you can start to arrange your picks on your wreath form.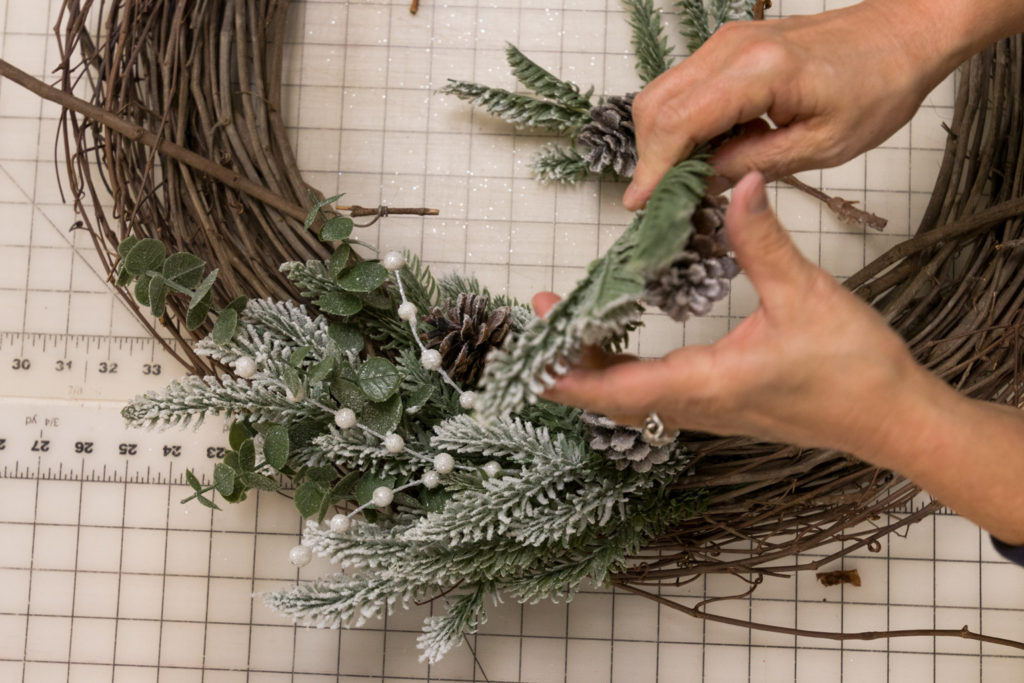 Adjusting the floral placement on the wreath form
Once you are you are pleased with the look you can use wire or hot glue to secure everything in place.
Then make your wreath bow. Hang and enjoy!
I added my cute DIY deer embroidery hoop ornament to the Rustic Farmhouse Christmas Bow. 
Now for the BEST part — the Wreath Blog Tour. So grab a hot cocoa and enjoy!
Annual Holiday Wreath Blog Tour
Is there any better way to greet your guests than a gorgeous wreath hanging on the front door? Welcome to the Christmas wreath blog tour hosted by Kippi at Home. We're going to be sharing 12 gorgeous Christmas wreaths to inspire you today!
Gorgeous DIY Christmas Wreath Ideas – Kippi At Home
DIY Faux Winter Eucalyptus Wreath – Hello Central Avenue
Thrift Store Sweater Wreath – Thrifted Nest
Upcycled Coastal Christmas Wreath – Sustain My Craft Habit
25 Easy To Make Christmas Wreaths – Our Crafty Mom
Turn Your $17 Wreath Into a $170 Wreath – Impressive Windows & Interiors
Fun and Colorful Pom Pom Wreath – Jessica Welling Interiors
Create a Scandinavian Christmas Wreath – Tribe of Burton
Rustic Candy Cane Christmas Wreath – Just That Perfect Piece
DIY Neutral Pom Pom Holiday Wreath – Zucchini Sisters
DIY Embroidery Hoop Christmas Wreath – DIY Vibes
Gorgeous DIY Wreath – Kippi At Home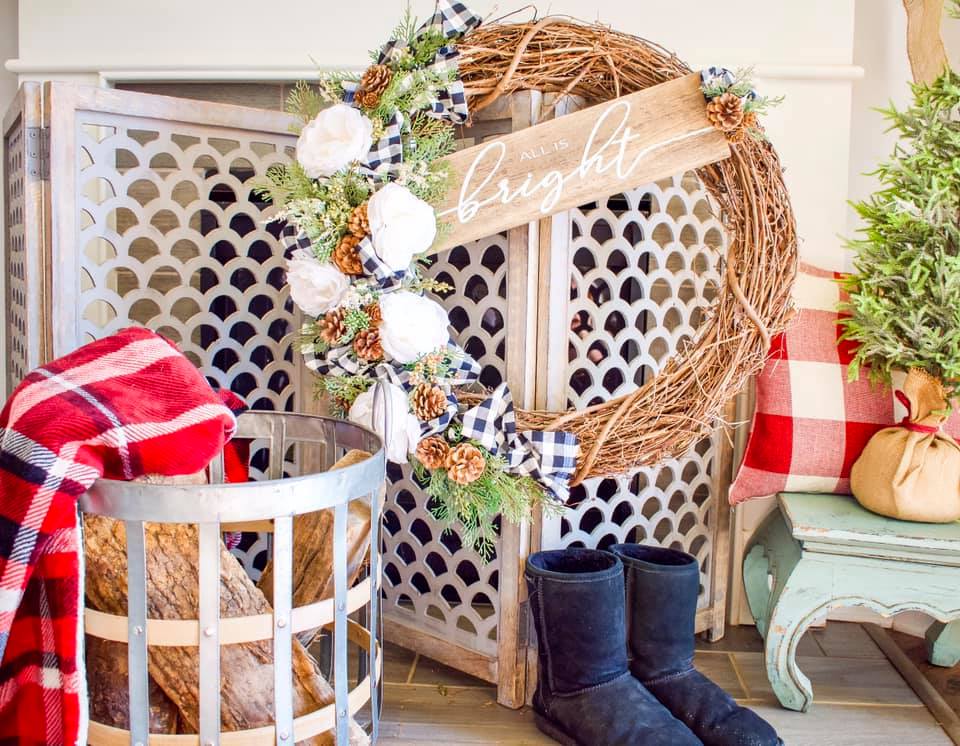 This pretty grapevine wreath was made by my friend Lia from Southern Yankee DIY. Lia used buffalo check fabric instead of ribbon and it turned our gorgeous.
Thank you so much for your visit today I hope your found some inspiration. You might also like my home tour post for a little more inspiration.
Want to enjoy all the holiday season has to offer, but it all seems over whelming? Join me as we enjoy a stress-free holiday season with a ton of inspiration, money saving ideas for decorating, gift giving, and so much more. Join HERE! And have the best of everything this holiday.
Merry Christmas,
Kppi
Comments
comments