Dried orange slices have been a Christmas-time favorite. They add a nostalgic natural element to your Christmas decor and recipes.
This post contains affiliate links. That means that if you purchase from one of these links, I will make a small commission.
How to Dry Orange Slices
The ingredients for dried orange slices are simply oranges. What could be easier?
Dried Orange Slices Supplies and Tools
First Step: Preparing Oranges
Give your oranges a good wash and towel dry before slicing them.
Second Step: Prepare Baking Pans
Prepare baking sheets by lining them with parchment paper. Then place a wire rack over the parchment paper.
Set your oven to 200 degrees F or lower.
Slice oranges into 1/4 to 1/2 inch slices, then pat them dry with a paper towel to speed the drying time.
I found that thinly sliced oranges dry faster. For example, 1/4″ slices dry faster and are the best for using as garnishes.
Place the citrus slices in a single layer on the wire rack. You can arrange the slices close together, but you want some space around them to allow air circulation for even drying.
Third Step: Baking the Citrus
Next, Place the baking sheets with the citrus slices in the oven.
If I have the time to wait, I like to dry my citrus at 170 degrees F to maintain their color. I have found that with a higher temperature, the dried orange slices are a darker color.
I set the timer every two hours for the first four hours to turn over the citrus slices.
After that, I set the timer for every hour to rotate the pan and turn the slices until they are dry.
Note: If I start them later in the day or if I have to run an errand, I turn off the oven and leave the pans in the oven until later. Then I turn the stove back on and start my one-hour timer again until the slices are fully dried.
However, if you want your dried citrus, a darker amber, then dry them at 200 degrees F.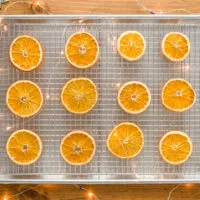 How to Make Dried Orange Slices
Learn how to make oven-dried orange slices to use in recipes and decorating.
Print Recipe
Rate
Instructions
Preheat oven to 170 degrees F

Wash and towel dry oranges.

Slice oranges into ¼ inch slices.

Line sheet pan with parchment paper and then place a wire rack over the parchment paper.

Arrange orange slices on prepared wire racks.

Transfer the arranged sheet pans to the oven and set a 2-hour timer.

After two hours, check the slices and turn them over. Repeat this step for the next two hours.

After 4 hours, set your oven timer for every hour. Then turn the slices over and rotate the pans until the orange slices are dehydrated.
Notes
My orange slices take about 7 hours in the oven at 170 degrees F to dehydrate.
Store them in a single layer in an air-tight container.
Nutrition
Calories:
41
kcal
|
Carbohydrates:
10
g
|
Protein:
1
g
|
Fat:
1
g
|
Saturated Fat:
1
g
|
Polyunsaturated Fat:
1
g
|
Monounsaturated Fat:
1
g
|
Potassium:
158
mg
|
Fiber:
2
g
|
Sugar:
8
g
|
Vitamin A:
197
IU
|
Vitamin C:
46
mg
|
Calcium:
35
mg
|
Iron:
1
mg
Pin Recipe
Decorating with Dried Orange Slices
You can use dried citrus slices in decorating garlands, Christmas tree ornaments, wreaths, etc. In addition, you can use dried citrus for culinary garnishes and treats.
I like to make a Christmas Time stovetop simmering potpourri with dried citrus, cinnamon sticks, and cranberries.
You can make use of citrus slices for a mulling spice. I love to put them in a mason jar with the recipe for mulling apple cider. Then, I add a gift tag and bow for the perfect handmade gift.
More Recipes You Might Enjoy:
Every fall, I cannot wait for the fresh cranberries to appear in the grocery store so I can make Cranberry Orange Muffins.
Russian Tea Cakes are another Christmas-time favorite I think you will enjoy.
Want a Stress-Free Holiday???
Want to enjoy all the holiday season has to offer? Are you feeling overwhelmed when you think of the holidays?
Join me as we enjoy a stress-free holiday season.
Please join me for a ton of inspiration and ideas! And have the best of everything this holiday.
Merry Christmas,