While reflecting on the past year and dreaming of all the goals I would like to accomplish, and then it hits me, I forgot to soak the beans overnight. No worries, I can use the quick soak method and have the beans ready to cook in an hour.
This post contains affiliate links. This means that if you purchase from one of these links, I will make a small commission, but rest assured, you will not pay more for any products.
How to Quick Soak Beans
This bean quick soak method can be used for all types of beans.
The cooking times will be the same for all beans, but the soaking times might vary if they are larger.
Bean Soaking Supplies
First step: Measure the correct amount of dried beans (any beans) for your recipe, then sort through them for stones and debris and discard anything that is not a good-looking bean.
Step by Step Quick Soak Method
Sorting Dry Beans
Second step: Place sorted peas in a colander (this is the one I used) and rinse them with cold water. Place beans in a large saucepan with enough water to cover them plus one extra inch of water for good measure.
Cooking the Beans
Third step: Place a saucepan over high heat and bring the peas and water to a boil and cook the dried beans for one minute.
Fourth step: Remove from heat and cover with a lid for one hour.
Drain Beans
Fifth step: Drain peas in a colander and then rinse.
Recipe Ready Beans
Now you are ready to use them in your recipe. Easy-peasy and budget-friendly!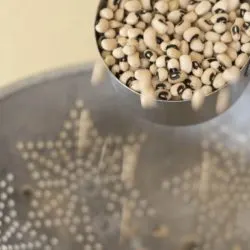 Quick-Soak Dried Beans
This bean quick soak method can be used for all types of beans.
Print Recipe
Rate
Ingredients
1

pound

Dried Beans

2

quarts

tap water

1

teaspoon

salt
Instructions
Sort through the dried beans to remove small stones or other debris.

Place sorted beans in a colander and rinse them with cold water.

Transfer beans to a large saucepan and cover with enough water to cover them plus one extra inch of water for good measure.

Place the saucepan over high heat and bring to it a boil and cook for one minute.

Remove the pan from heat and cover for one hour.

After the beans have soaked for one-hour, drain beans in a colander and rinse with cold water.
Nutrition
Calories:
118
kcal
|
Carbohydrates:
21
g
|
Protein:
8
g
|
Fat:
1
g
|
Saturated Fat:
1
g
|
Sodium:
190
mg
|
Potassium:
474
mg
|
Fiber:
5
g
|
Sugar:
1
g
|
Vitamin C:
2
mg
|
Calcium:
33
mg
|
Iron:
2
mg
Pin Recipe
Dried Bean Recipe
Black-eyed Peas Recipe
Ingredients:
1 cup of dried black-eyed peas
ham hock
4 slices of bacon
1 onion (chopped)
1 stalk of celery (chopped)
2 cloves of minced garlic
2 cups of your favorite rice (cooked)
1/4 cup red wine vinegar
salt and pepper to taste
green onion (chopped)
Cover peas with water and soak overnight (omit this step if quick soak method was used)
Drain peas, cover with fresh water and add the ham hock and bring to a boil. Note Publix up the street from my house had ham hocks in large multi-packs, and I ask the butcher if I could purchase only one, and he repackaged this one for me. That was a money saver of $6.00. The dried black-eyed peas were on sale for $1.39 a pound.
Reduce heat and simmer for one hour—drain peas, reserving the liquid. Place bacon in a skillet to saute, then remove bacon to paper towels.
Use the grease from the bacon to saute the chopped onion and celery for 2 minutes.
Add garlic to the onion mixture and cook for 5 minutes. Add peas, ham hock, and rice. Cook, stirring constantly.
Add vinegar and 4 tablespoons of the reserved liquid from the peas. Cook 5 minutes, stirring. Add more reserved liquid if necessary—season with salt and pepper. Chop the cooked bacon.
Serve topped with chopped green onions and bacon.
Want More?
Sometimes we all need a little inspiration for easy meals and recipes. I put together some recipes. I think you will like it. If you like easy everyday recipes, you might enjoy my favorite recipes delivered straight to your inbox click HERE.
You might also like these recipes:
The iconic Senate Bean Soup served in the U.S. Senate is perfect for a budget-friendly dinner.
Taco Soup is another easy bean soup recipe that is delicious and quick.
I am so glad you stopped by today. Do you enjoy a home-cooked meal? Need a little inspiration? Please join "The What's For Dinner" Facebook group for more ideas.
I cannot wait to meet you.😊
Bon Appetite,
Kippi