Strawberry season is almost here, and I could not be more excited about making my favorite strawberry pie recipe. This no-bake Strawberry Pie is made with Jello and fresh berries and is a great make-ahead dessert.
It is super easy and quick to make. It is perfect for summer get-togethers or nice to have in the fridge for day-to-day enjoyment.
You might also enjoy another favorite fresh berry recipe. Blueberry crisp is a family favorite for a summer dessert.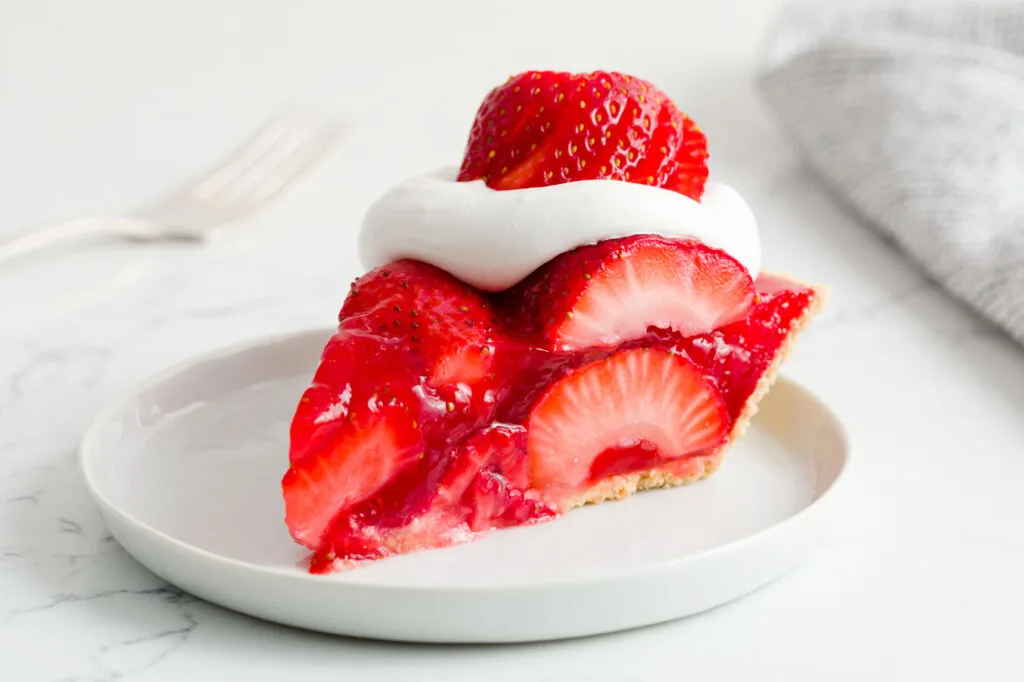 Ingredients in Strawberry Pie
This is what you will need to make a strawberry pie:
1 Pint of Sweet Strawberries – The fresher, the better.
1 Cup Sugar – Provides sweetness.
1 Cup Water
1 Small Box of Strawberry Jello – Use a 3oz box that is about 4 servings.
3 Tbsp. Corn starch
Prepared Gram Cracker Crust or Pie Crust – You can use a prepared pie crust or make your own. A graham cracker crust is a great option, as well as a traditional pie crust. A prepared pie crust makes this recipe super quick and easy to make.
Cool Whip (Topping Option) – You can use any whipped topping you like.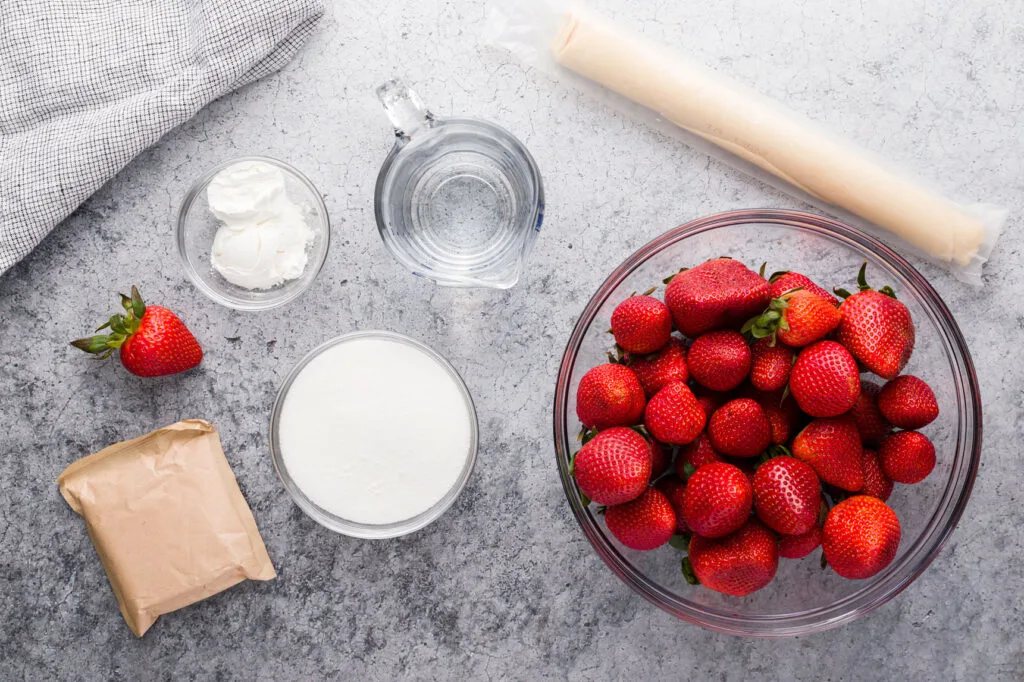 Here is a Pin for your favorite Dessert board on Pinterest!
Pie Baking Supplies
Measuring cups
Small saucepan
Whisk
Measuring spoons
Rolling pin
Paring knife
Spatula
Pie plate (this one is my favorite)
Pie weights or dried beans
Parchment paper
This post contains affiliate links. That means I will make a small commission if you purchase from one of these links.
How to Make a Strawberry Pie
Before you begin making the pie filling, you will need to blind-bake your pie crust.
Blind Bake Pie Crust
If you are making your pie crust from scratch (this is my go-to pie crust recipe) or using a rolled refrigerated crust, you will need to blind or pre-bake your crust to achieve the perfect pie crust. Follow the package instructions. I use a piece of parchment paper to line the crust, then I fill my pie crust with dried beans and bake it at 400 degrees F for 10 minutes.
Then I lift the parchment paper to remove the beans and return the crust to the oven to bake for two more minutes. Allow to cool.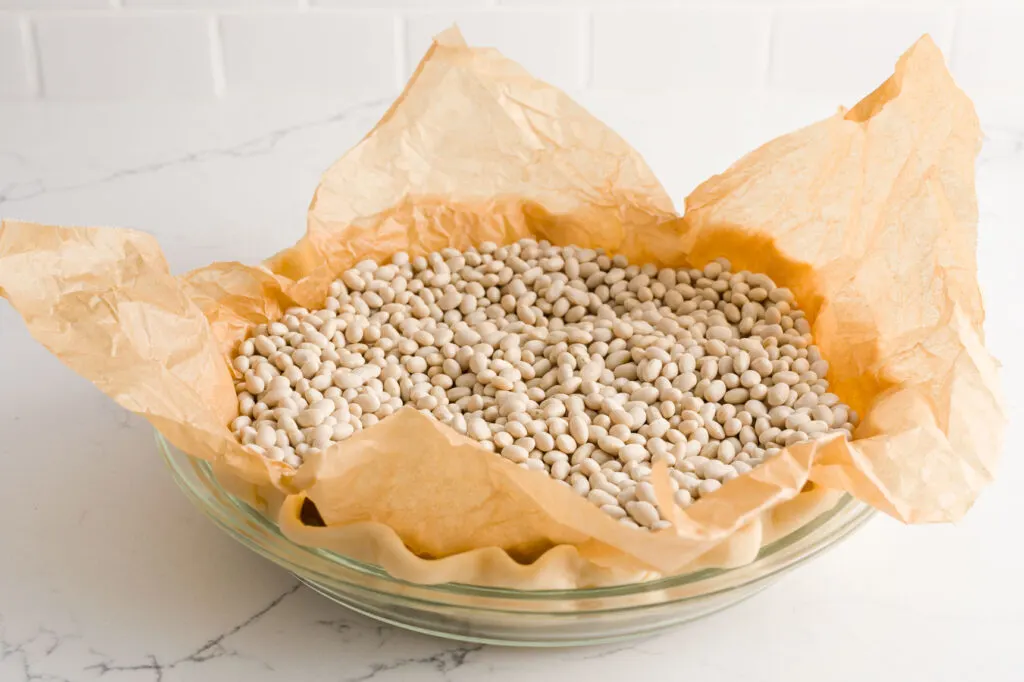 Allow the pie crust to cool before filling.
Note: Omit this step if you are using a prepared graham cracker crust.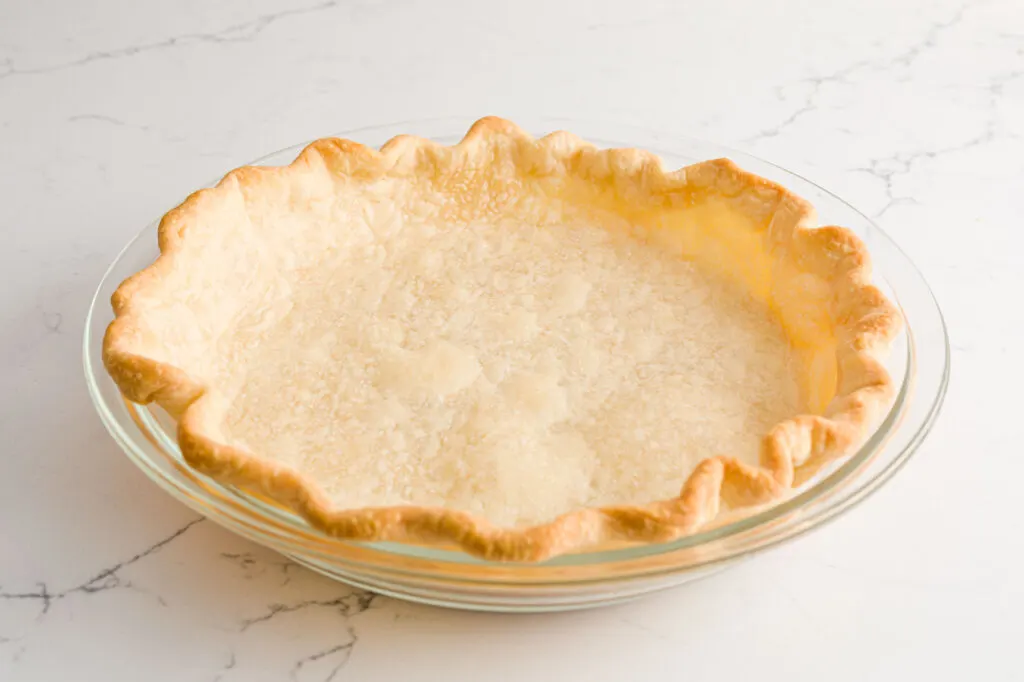 Making the Strawberry Pie Filling
Mix the corn starch into a cup of water until fully dissolved.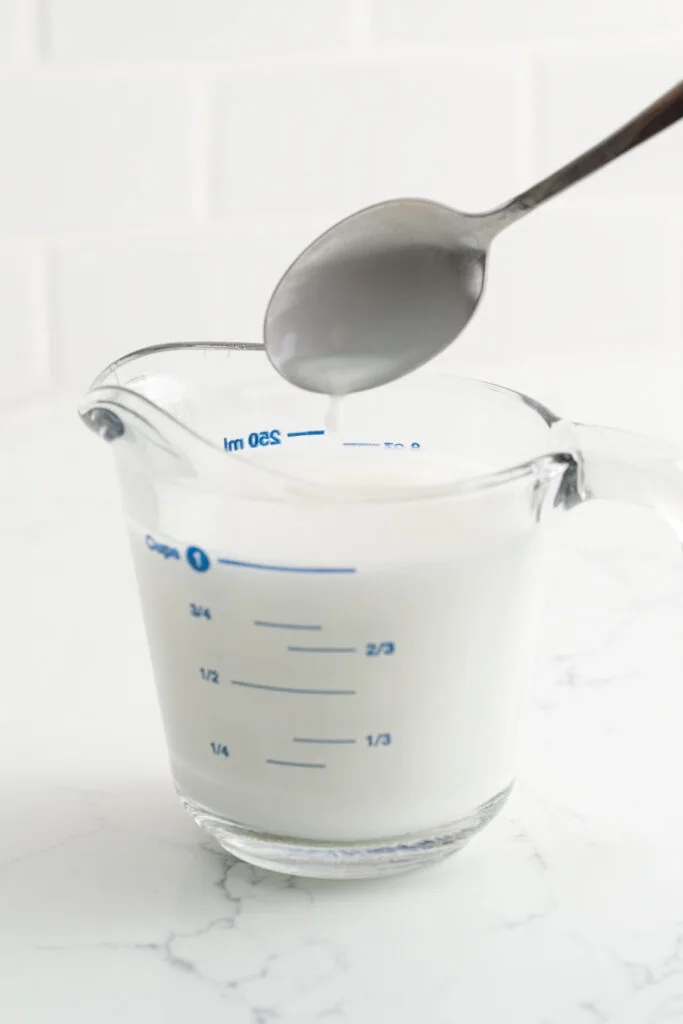 Add the cornstarch mixture to a medium-small saucepan.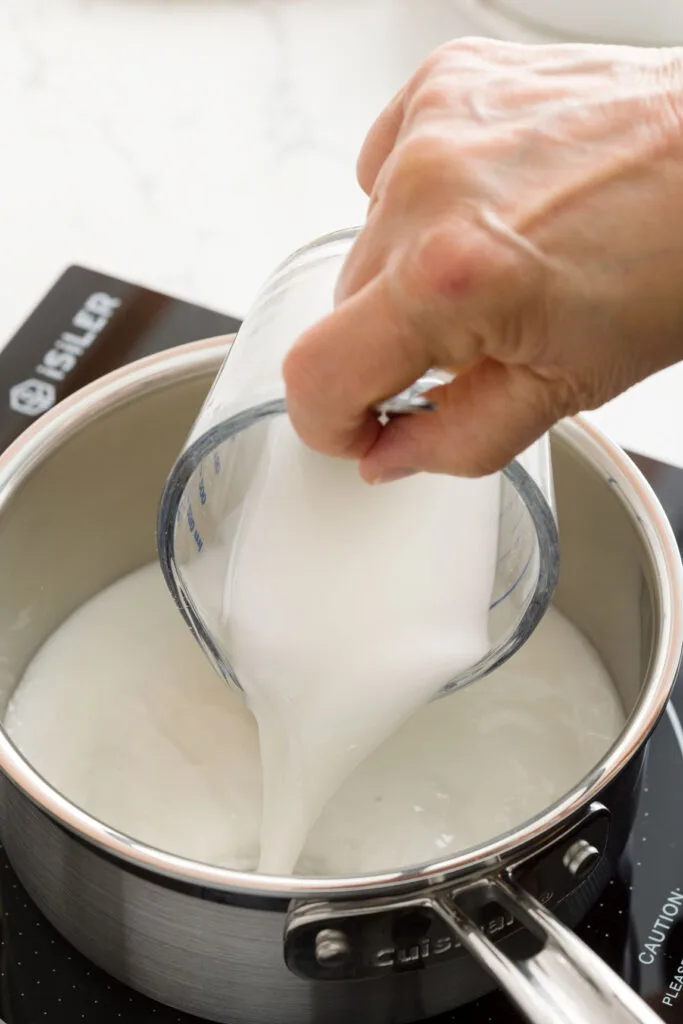 Now add the sugar and Jello powder to the pot.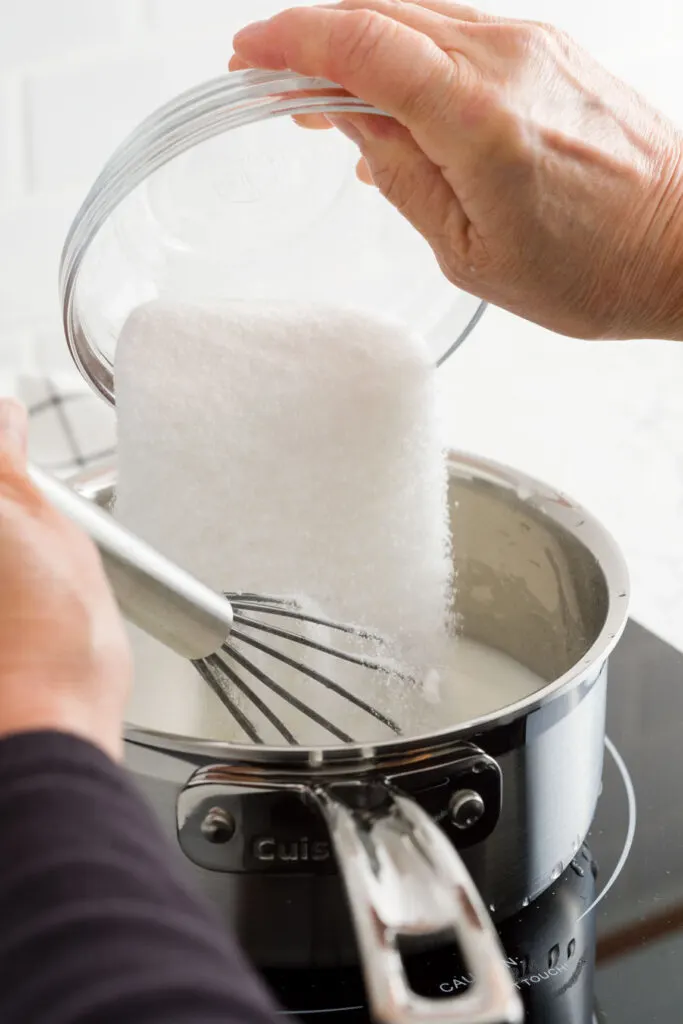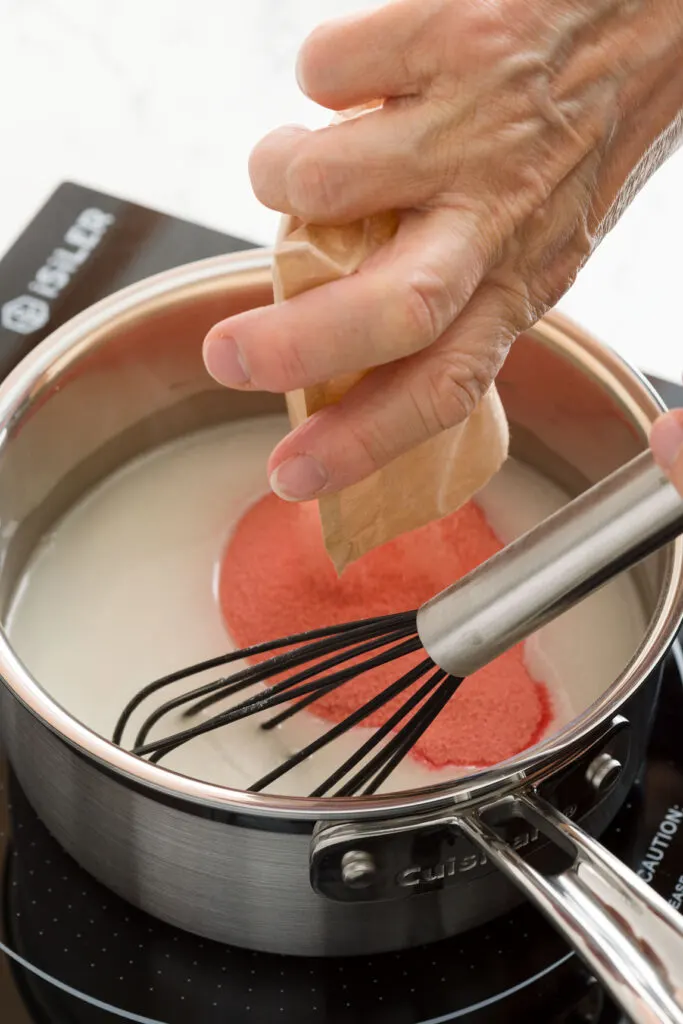 Bring the mixture to a boil over medium heat for about a minute, stirring constantly. Make sure to stir gently to reduce the amount of bubbles in your Jello.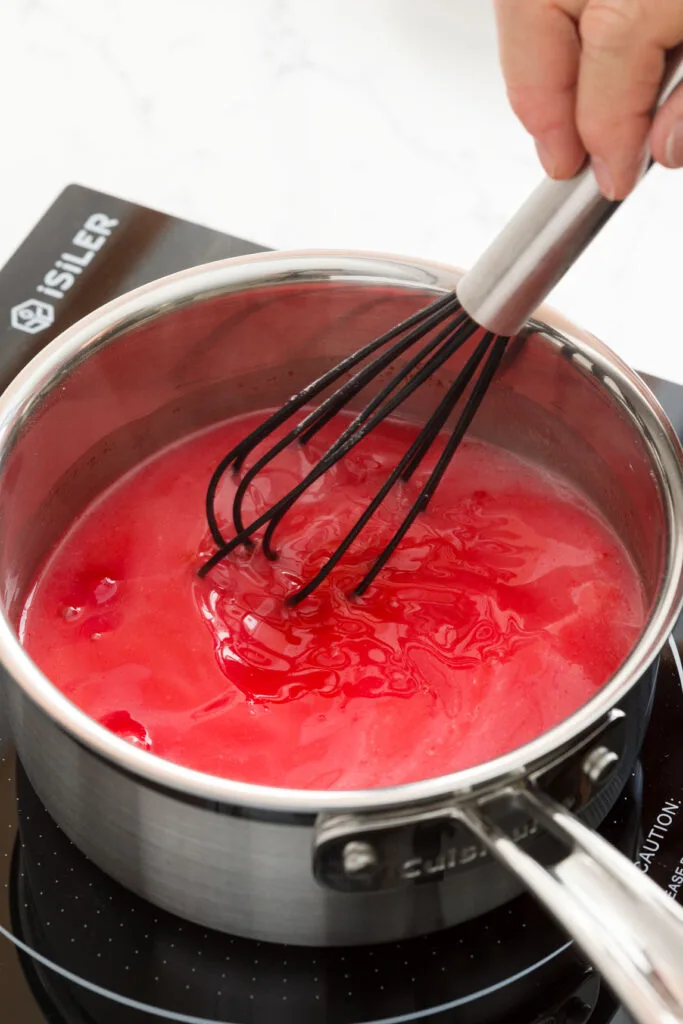 Allow for the Jello mixture to cool for about 10 minutes… In the meantime, wash and cut up your pint of strawberries. Cutting smaller strawberries in half should be enough, but you may want to cut them into quarters with larger strawberries.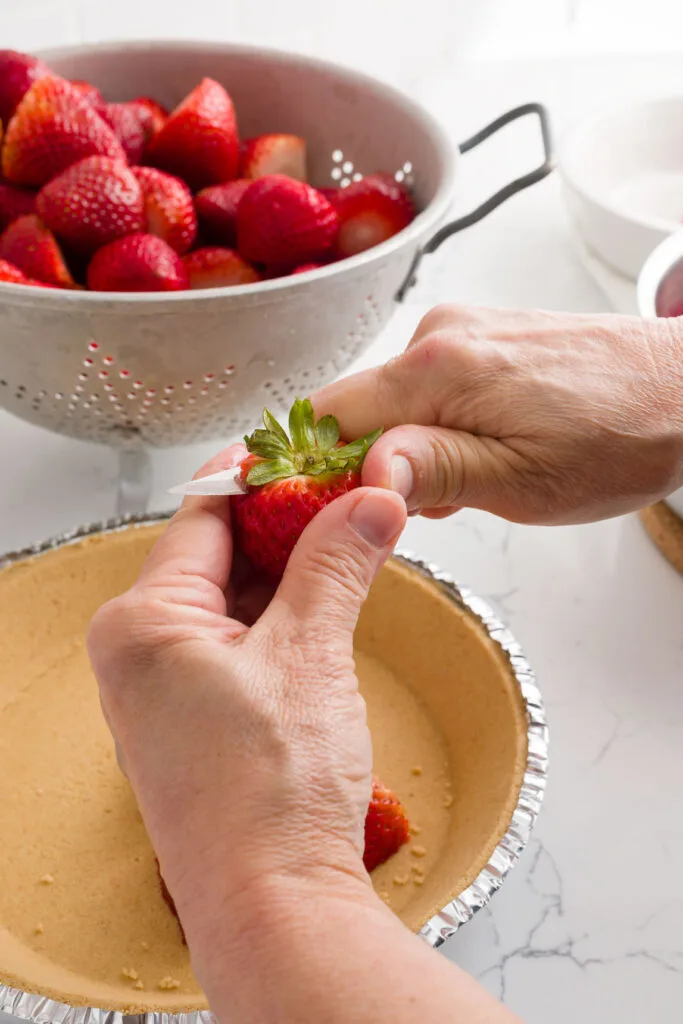 Assembling the Pie
You can cut up your strawberries, place them directly in the pie crust, and drizzle the thickened strawberry pie filling mixture over them.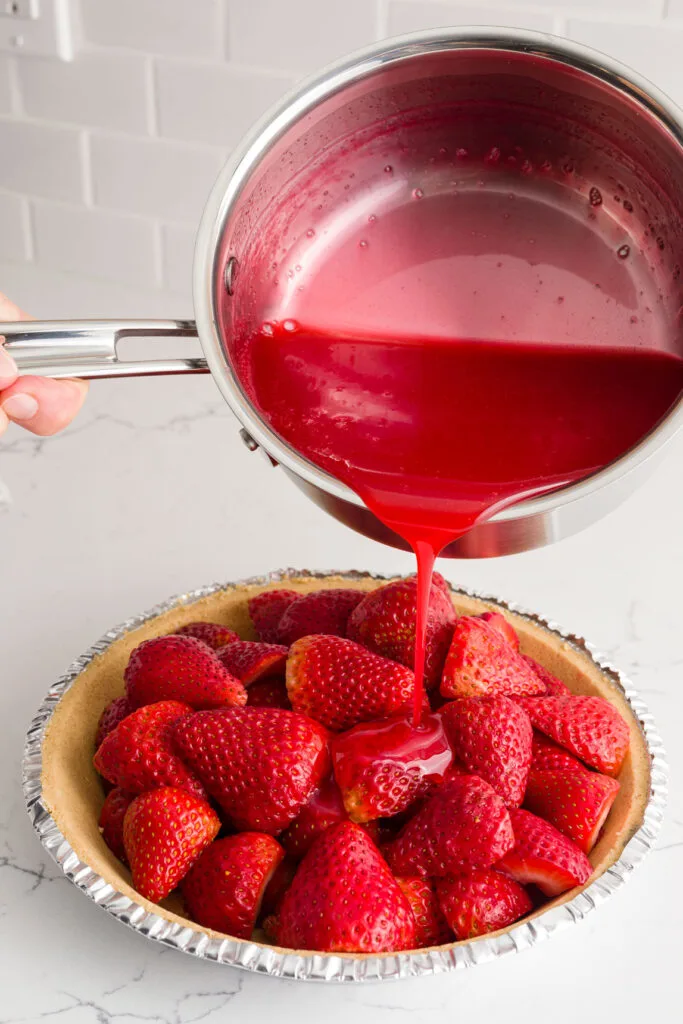 Or you can put your slice strawberries in a larger bowl and pour the Jello mixture over them.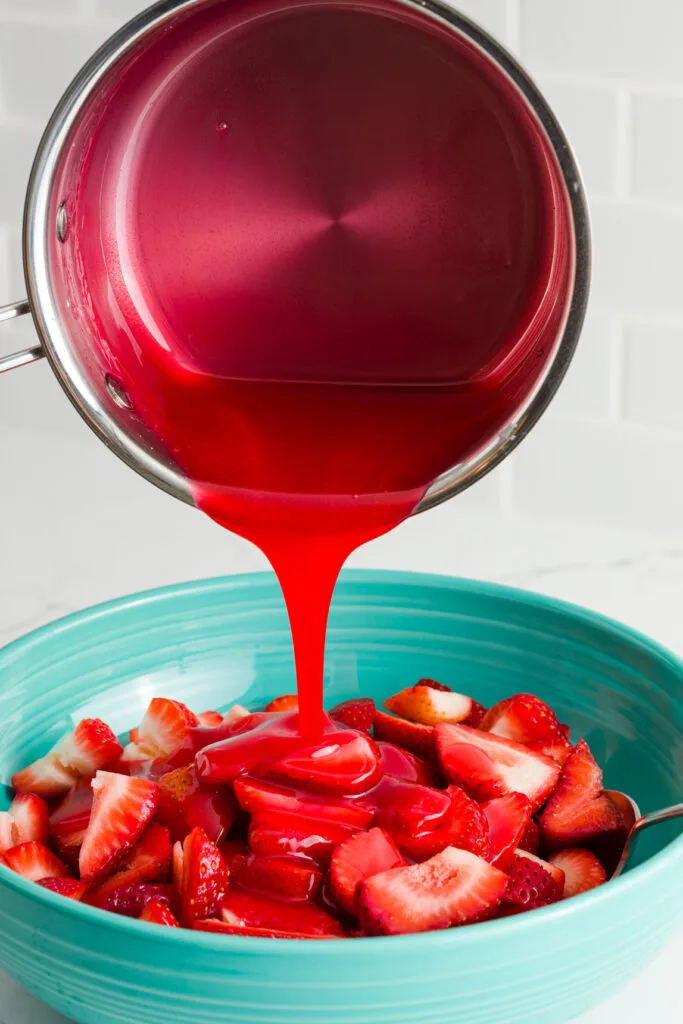 Then stir to make sure the strawberries are fully coated. This method ensures that the strawberries are thoroughly coated but dirties an extra dish.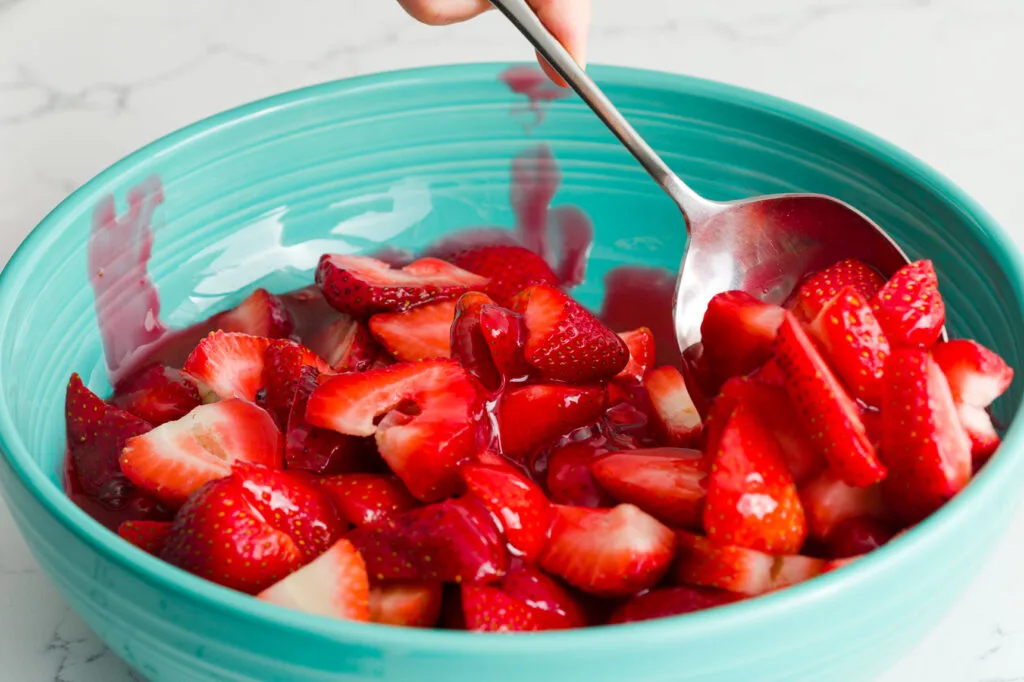 Spoon the coated strawberries into the pie crust.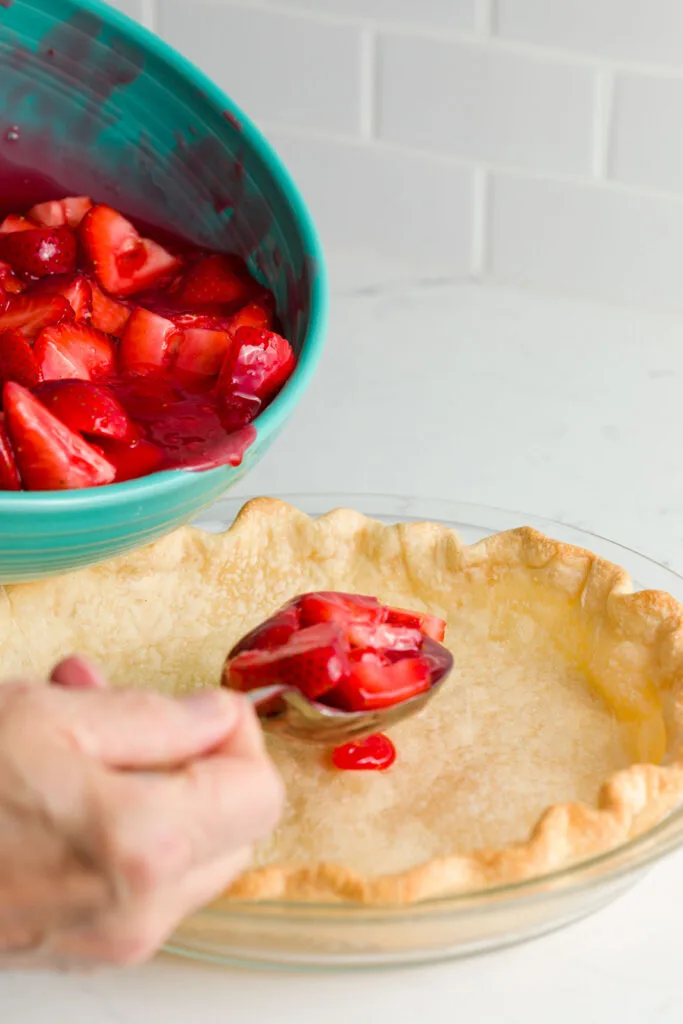 Place the pie into the refrigerator for around 2 hours or until the Jello fully sets up.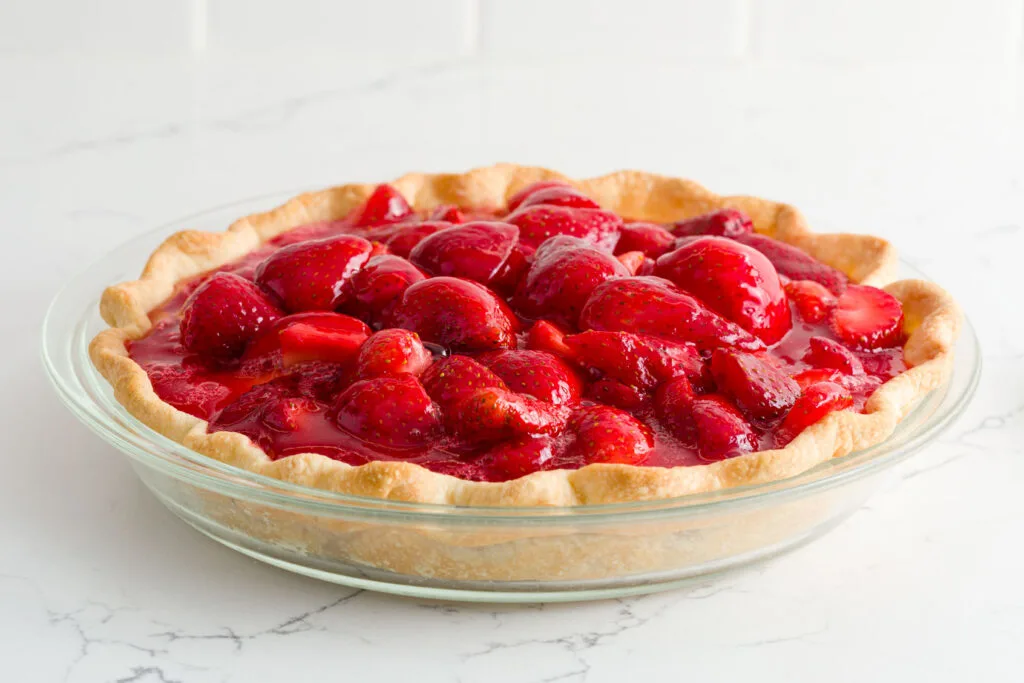 Fresh Strawberry Pie Serving Suggestions
This strawberry pie recipe is amazing when served with a dollop of Cool Whip or topped with whipped cream on top and garnished with a strawberry or sprig of mint. I have a post about propagating mint so you can start your own mint plant and have fresh mint whenever you want.
If you have the time, you can whip up some homemade whipped cream for the topping.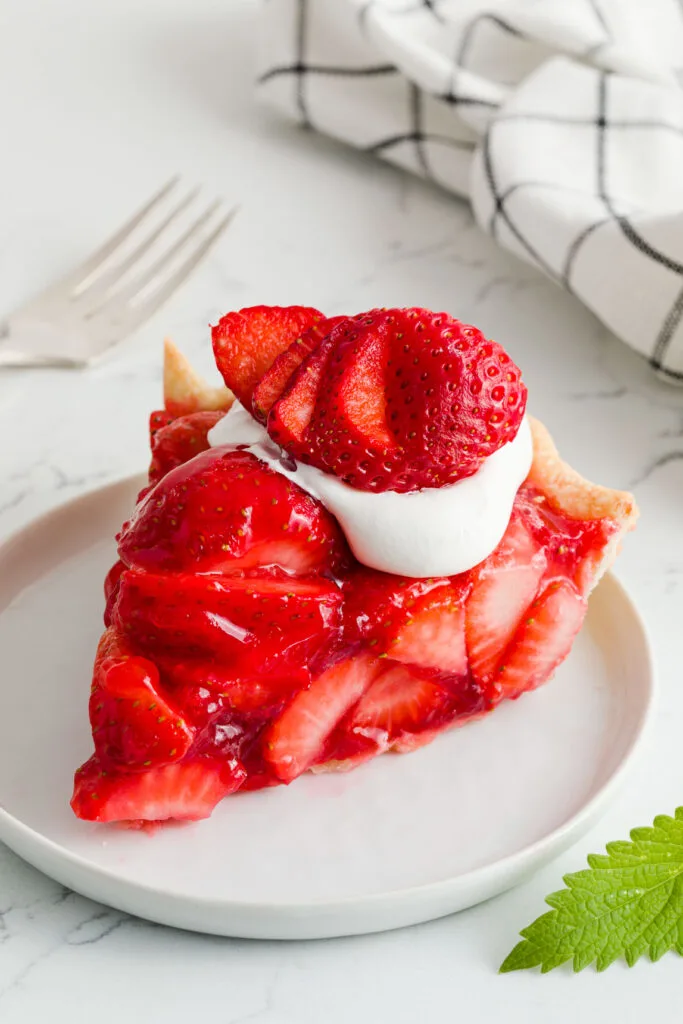 Questions You May Have
Can I use a graham cracker crust? Yes, a graham cracker crust is an option for this pie.
Also, to make this pie even faster, you can use a frozen pie crust in a foil pan. I find this option the best when you want to make and take this pie or give one away. There is no pie plate to return.
How should I store my pie? This pie must be refrigerated, covered with foil or plastic wrap, or placed in an air-tight container. It can last for about 3 days in the fridge.
Why is my Strawberry Pie watery? A watery Strawberry Pie could be the result of not boiling the filling long enough or not allowing enough time for the filling to set. It could also be that the pie needs to go back in the refrigerator because the filling begins to soften from sitting out too long, and cooling it will return it to a solid state.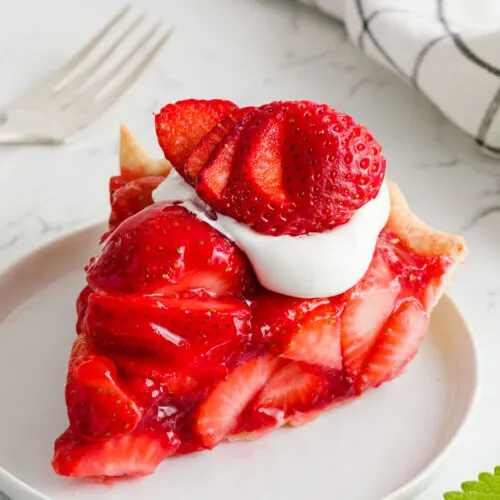 Strawberry Pie
This is a no bake pie made from fresh strawberries and Jello placed in a pie crust. It is a great spring and summer dessert for any gathering.
Print Recipe
Rate
Ingredients
1

pint

Strawberries

Fresh as possible

1

cup

Sugar

1

cup

Water

1

Small Box of Jello

3

tbsp

Cornstarch

1

Graham Cracker Crust

Cool Whip

Topping
Instructions
Mix the cornstarch in to the water and add into sauce pan.

Add sugar and Jello mix into sauce pan as well.

Bring to a boil for one minute stirring the whole time.

Let mixture cool for 10 minutes.

Cut up the strawberries either in half or in quarters.

Place cut up strawberries in bowl and pour the cooled Jello mixture over them.

Stir the strawberries and Jello mixture until the strawberries are fully coated.

Spoon the strawberries into a prepared pie crust.

Place in refrigerator for about 2 hours or until the Jello sets up.

Enjoy with a dollop of Cool Whip.
Notes
This pie should be stored coved in the refrigerator.
Nutrition
Calories:
288
kcal
|
Carbohydrates:
58
g
|
Protein:
3
g
|
Fat:
6
g
|
Saturated Fat:
1
g
|
Polyunsaturated Fat:
0.5
g
|
Monounsaturated Fat:
4
g
|
Cholesterol:
1
mg
|
Sodium:
163
mg
|
Potassium:
123
mg
|
Fiber:
2
g
|
Sugar:
42
g
|
Vitamin A:
15
IU
|
Vitamin C:
35
mg
|
Calcium:
22
mg
|
Iron:
1
mg
Pin Recipe
Want More?
Sometimes we all need a little inspiration for easy meals and recipes. I put together some recipes. I think you will like it.
If you like easy everyday recipes, you might enjoy my favorite recipes delivered straight to your inbox; click HERE.
See you soon,
Kippi
Ps. This post was shared on Between Naps on The Porch.