Since our scrap woodpile is growing, I decided to build a decor display riser with some of our wood scraps. Decor risers are wonderful for decorating and displaying.
I was so excited about all the possibilities I could create with my scrap woodpile.
Also, I wanted to make a frosted mirror after seeing how amazing my friend Rebecca's from Zucchini Sisters frosted mirror turned out.
How to Build a Wood Riser
This post may contain affiliate links. This means that if you purchase from one of these links, I will make a small commission, but rest assured, you will not pay more for any products.
You can save this inspiration on Pinterest for later.
After selecting my wood, I gathered my supplies.
Supplies and tools
2″ x 12″ lumbar
Sander and sandpaper 150
Spray chalk paints
How to build a scrap wood display riser video:
We made 2 sizes of wood risers to stack the smaller ones on the large ones.
Wood Cuts
Small riser top 6″ x 6."
Large riser top 11″ x 11″
Legs 1.5″ x 1.5″ x 1.5
Using the measuring tape and square, mark your cut lines with a pencil.
I used the circular saw to cut the riser tops.
Then I used the table saw to cut the legs.
Using the table saw to cut the scrap board to 1.5″ to make the legs.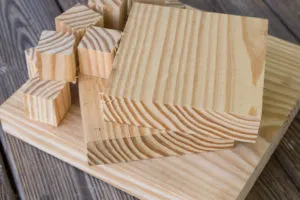 Sanding
Everything is cut and ready to be sanded!
Using a hand sander, I sanded all sides.
Assembling Risers
The legs can be glued on or screwed in place. I decided to try both and see which I liked better.
Gluing
Screw Assembly
I used a countersink drill bit to drill the holes in the legs.
To install the legs, I lined them up to the corner of the top. Then, I drilled a pilot hole through the countersunk hole in the leg into top about a 1/2″.
Painting
Finished Riser
I wanted to note that I feel that the legs attached with screws worked better.
In the photo below, I have a few of my fabric pumpkins. I made them with cozy shirts from Goodwill. In addition, I wrote a post about how to make fabric pumpkins.
More scrap wood projects:
I have been working on some easy, gorgeous fall decorating projects you will love, so if you don't want to miss any inspiration, join The Fall Inspiration Newsletter and get it delivered to your inbox.
Scrap Wood Challenge Projects
The Scrap Wood DIY Tour's first stop is Olivia from Olivia Ohern has made an amazing exotic wood and resin charcuterie board. Olivia is my daughter, and I am so excited and proud of her for starting her blog. Wow! Her creative eye really shows in her first challenge project!
Lia from Southern Yankee DIY is the next stop on tour, and she has hit it out of the park again with her fall sign. I am definitely making one of these too.
The third stop is Erin from The DIY Nuts, with her industrial-style corner shelf.
Amy from 1905 Farmhouse is getting ahead of the game with her Halloween crafting. She is sharing her outdoor wooden skeletons, sure to please her trick or treaters.
Kerri made this rustic centerpiece box from Mama DIY.
Want a Stress-Free Holiday?
Want to enjoy all the holiday season has to offer, but it all seems overwhelming? Join me as we enjoy a stress-free holiday season with a ton of inspiration, money-saving ideas for decorating, gift-giving, and so much more. Join HERE! And have the best of everything this holiday.
Thank you for your visit today; I hope you found some sweet inspiration.
Merry Christmas,
Kippi