What better way to greet your guest than cheery door decor? Decorating baskets for your doors is the easiest way to update seasonal door decor. This Basket Wreath only took a few minutes to create.
This post contains affiliate links. This means that if you purchase from one of these links, I will make a small commission, but rest assured, you will not pay more for any products.
How to Decorate a Front Door Basket Wreath
It is so simple to decorate with door baskets. You fill them with your favorite flowers, then add a bow.
Supplies
Patriotic Supplies
***For your convenience I have gathered all my favorite spring crafting must-haves HERE.
The baskets I ordered were very reasonably priced for two baskets. I wanted two since my studio has French doors. Having two front doors poses a challenge when decorating. In other words, you have to have two of everything.
Therefore finding a bargain for the baskets was a plus for my front door decorating budget.
The first step was to gather all my supplies and tools to begin decorating my front door baskets.
Then I cut enough burlap to line the inside of the basket.
Note: I line the baskets to hide the green floral foam and other mechanics of the arrangement.
Adding floral foam to my baskets makes arranging flowers so much easier since they hold the faux flower stems in place.
Note: I use a bread knife to cut the floral foam.
I pulled out the burlap lining and inserted the cut foam into the bottom of the burlap, and reinserted it into the basket.
I begin the arrangement by adding three of the main flowers to define the design "outline."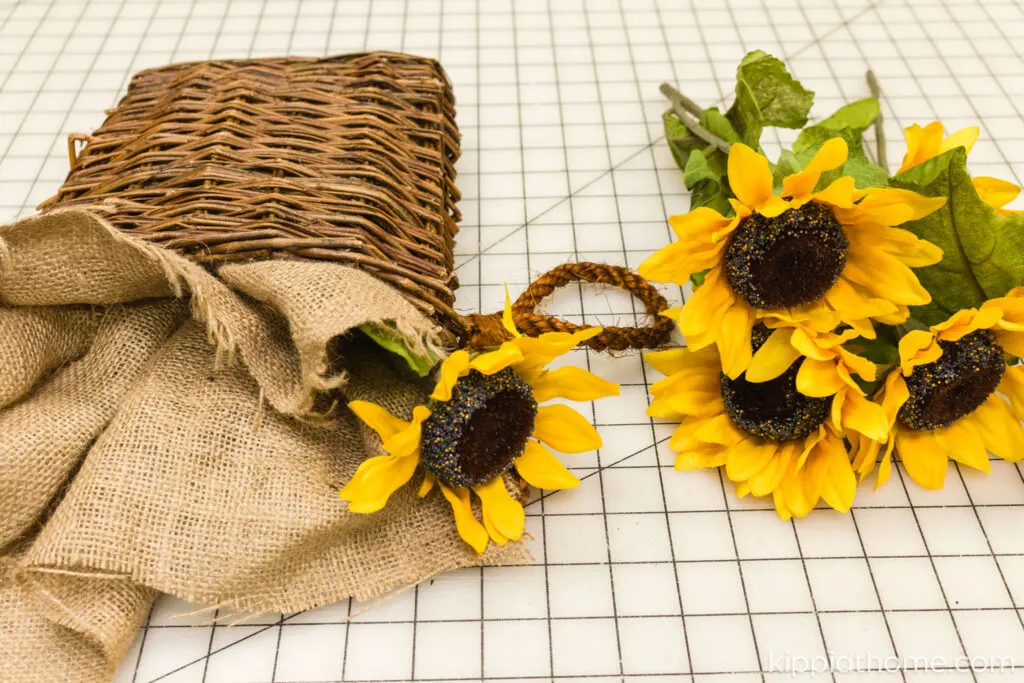 Then I add more of the main flowers to fill in the design.
Note: If you have different sizes and colors of the main flowers, you could use them to fill in.
Filler Flowers
Once I was happy with my main flowers, I decided to add some height and interest to taller greenery and floral stems.
Ribbon Bow
If you have been following my blog, you know I love to make bows; you can see my favorite bows HERE.
For this basket, I wanted the bow to be on the side and tucked in the basket. Therefore, I would need to make a variation of one of my favorite bows.
You will need ribbon, scissors, wire cutters, zip ties, floral wire, or pipe cleaner for this bow.
Start by weaving loops back and forth until you have 3 loops on each side. Cut a piece of ribbon for the streamer and another piece for the tie in the center.
Fold your loops in half to find the center, then add the streamer to the bottom. Gather in the center the loops and the stream and secure with a zip tie.
Using your wire cutters, snip the zip tie. Next, tie the last piece of ribbon around the center of the bow and the pipe cleaner.
Next, you can use the pipe cleaner to attach the bow to the basket. Then style the bow in the way that looks best for your floral basket.
Flower Options
The flower and ribbon options are limitless. However, seasonal flowers make the best "basket wreaths."
You can use these wall baskets for boho, farmhouse, or cottage wall decor.
Sunflowers can be used in spring, summer, and fall.
Spring tulips would make a gorgeous spring wreath basket. It would perfect for a Mother's Day gift as well.
Patriotic Basket Wreath
To update your door basket wreath is seriously simple. Remove the items you want to replace and store them in a container with a label for the next time you want to use those items.
Tip: Do not remove the floral foam or burlap liner.
This look is perfect for summer, but I like to add flags for July!
Sunflower Door Wreath
kippiathome.com/easy-spring-wreath-diy-learn-how-to-make-a-hoop-wreathDIY wood bead sunflower wreath was another easy door decor project video.
Easy Spring Wreath Ideas
This is an easy spring wreath you might also enjoy creating.
Please join me (HERE) as we craft up some fun. You can look forward to receiving new inspiration every week. As well as special online crafting events, seasonal and holiday crafting too.
Happy Creating,
Kippi