Grilled corn on the cob is a popular summer dish that is easy to prepare. While grilling steaks, chicken, burgers, or other meats, you can also grill corn on the cob. Not only does this keep your kitchen cool, but it also adds a delicious smoky flavor to the corn.
To complete your summer meal, serve the grilled corn on the cob with a refreshing cucumber salad and a sweet and juicy peach crisp.
Note that I have grilled corn on the cob with the husk on and with them off.
Shucked corn is my preferred method for grilling corn. Placing the corn directly on the hot grill grates creates an unparalleled roasted smoky flavor.
The complete printable recipe is below.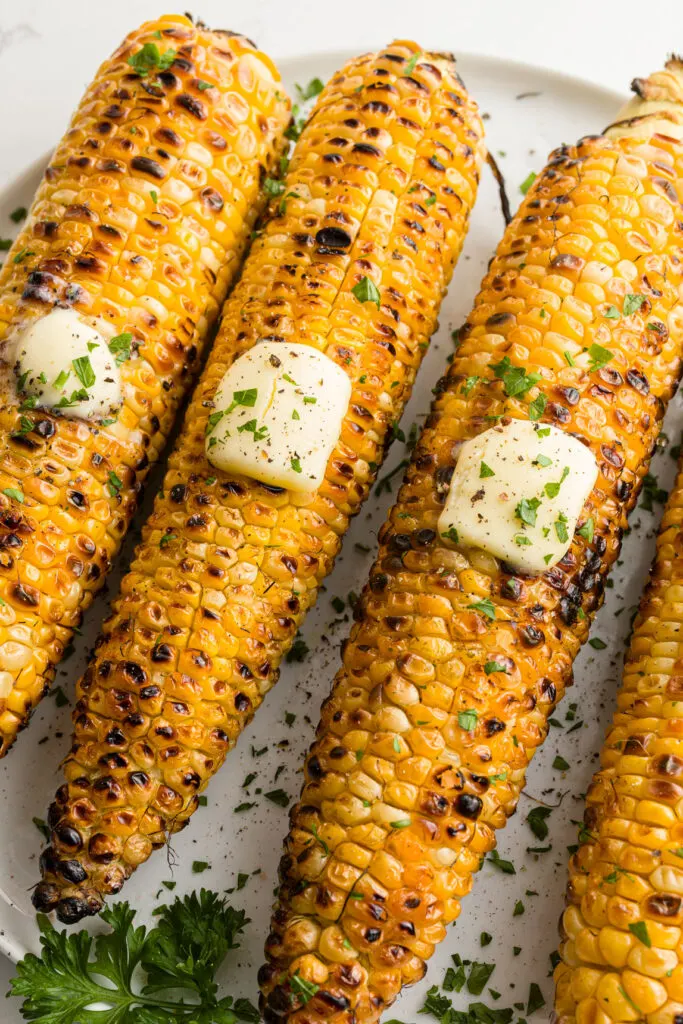 This post contains affiliate links. I will make a small commission if you purchase from one of these links.
Grilled Corn Ingredients
Corn: Select fresh corn on the cob with plump kernels, green husks, and brown tassels.
Oil: High-heat oil such as olive oil is best for grilling corn.
Salt and Pepper: A sprinkling of pepper and salt elevates the smoky flavor of the grilled corn.
Butter: Serve hot with pats of salted butter or garlic butter.
Seasonings: Mexican street corn seasoning for a unique treat.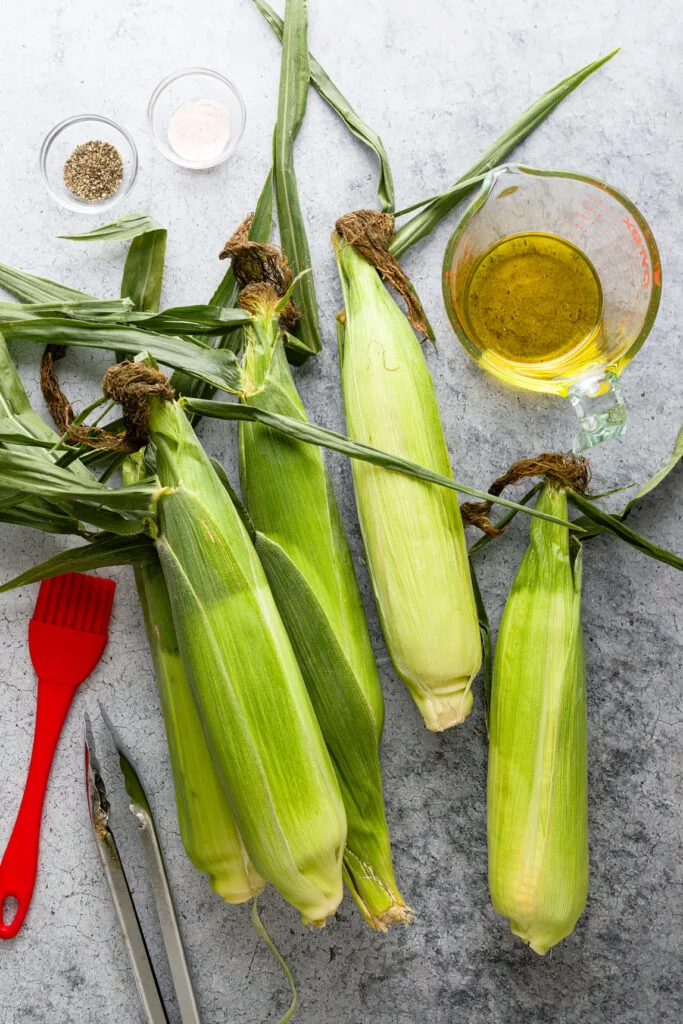 Grilling Supplies
Grill (gas is the easiest to use)
Measuring spoons
How to Grill Corn
Preheat the grill to medium-high heat.
You want to select the freshest corn on the cob for the best results. Look for corn that has juicy kernels and moist green husks.
Shuck the corn by removing the husk and the silk with your hands.
Next, I use a vegetable brush to brush the remaining cornsilk off under cold running water.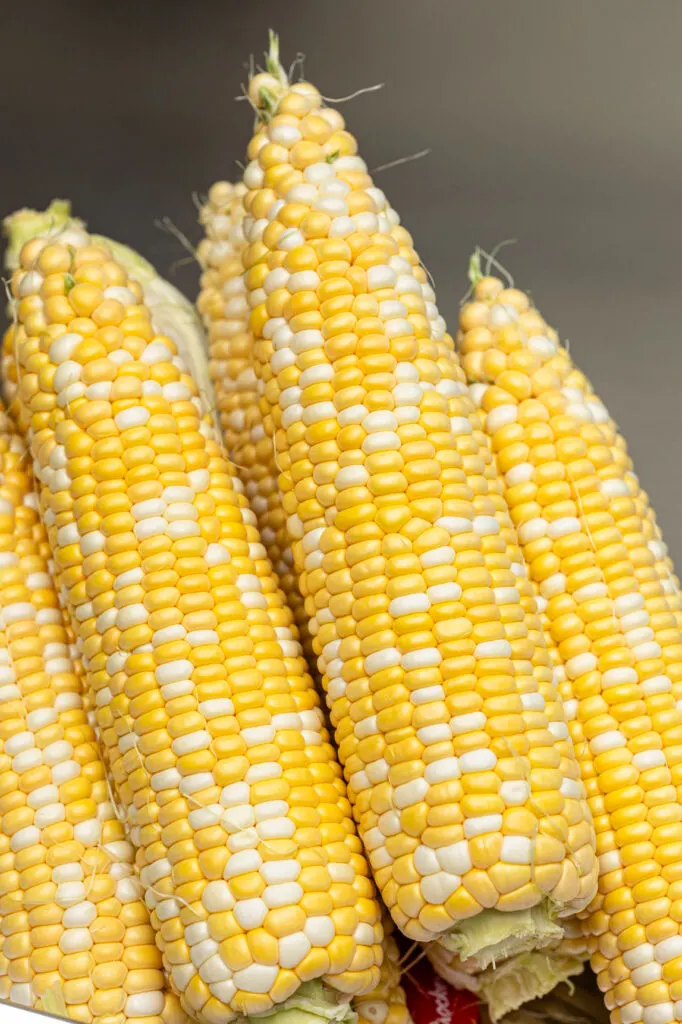 Place the corn on the preheated grill grates. Then, brush the corn with oil while turning them with tongs to coat all sides.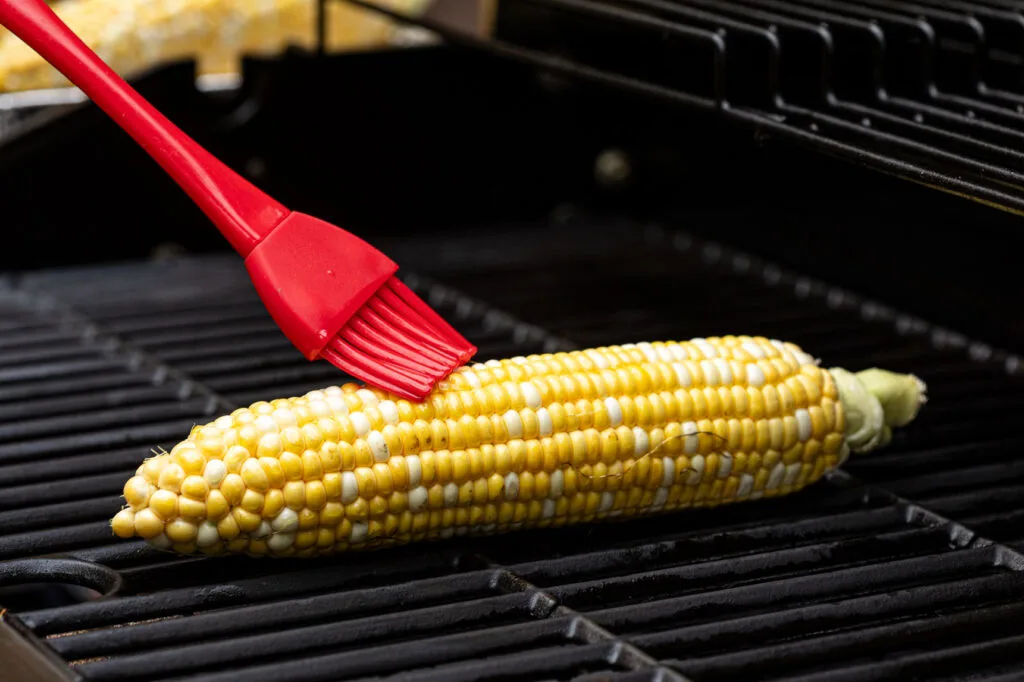 Cook for eight minutes, then turn every few minutes until the corn is evenly charred.
The corn is ready in 13 to 15 minutes. Place grilled corn on a serving platter and sprinkle with salt and pepper to taste.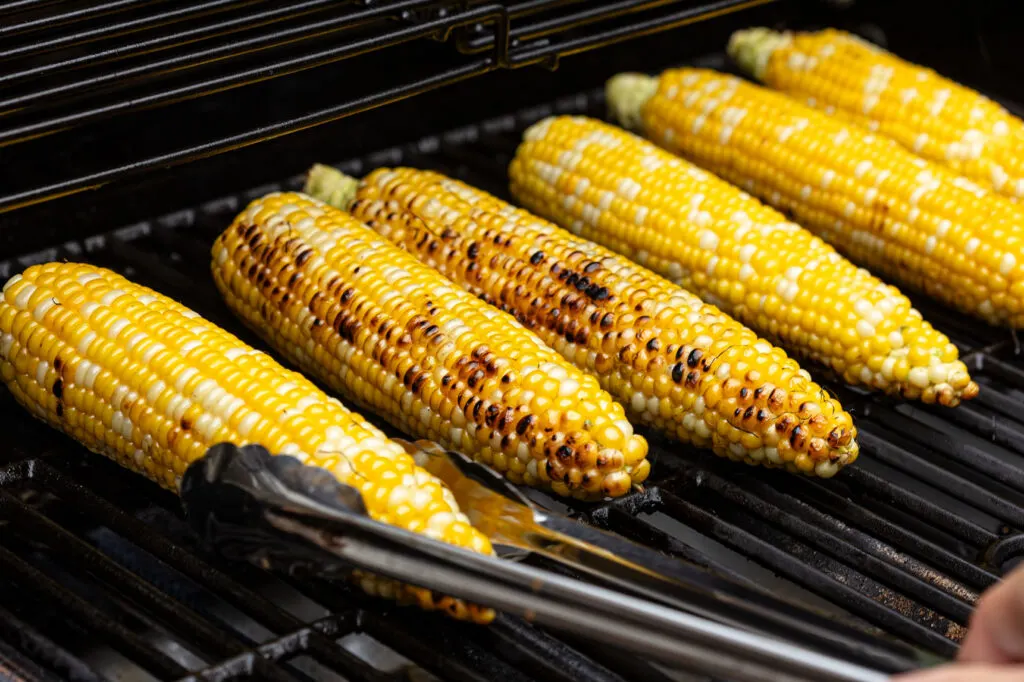 Serving Suggestions
Grilled corn is delicious when served hot off the grill. However, it becomes even better when coated with melted butter or garlic butter and seasonings.
To preserve leftover grilled corn, wrap it in plastic and refrigerate. You can also use the leftover grilled corn to make a delicious salad by cutting the cold corn off the cob and mixing it with fresh chopped cucumber, tomatoes, and red onion. Top it off with your favorite dressing, and enjoy!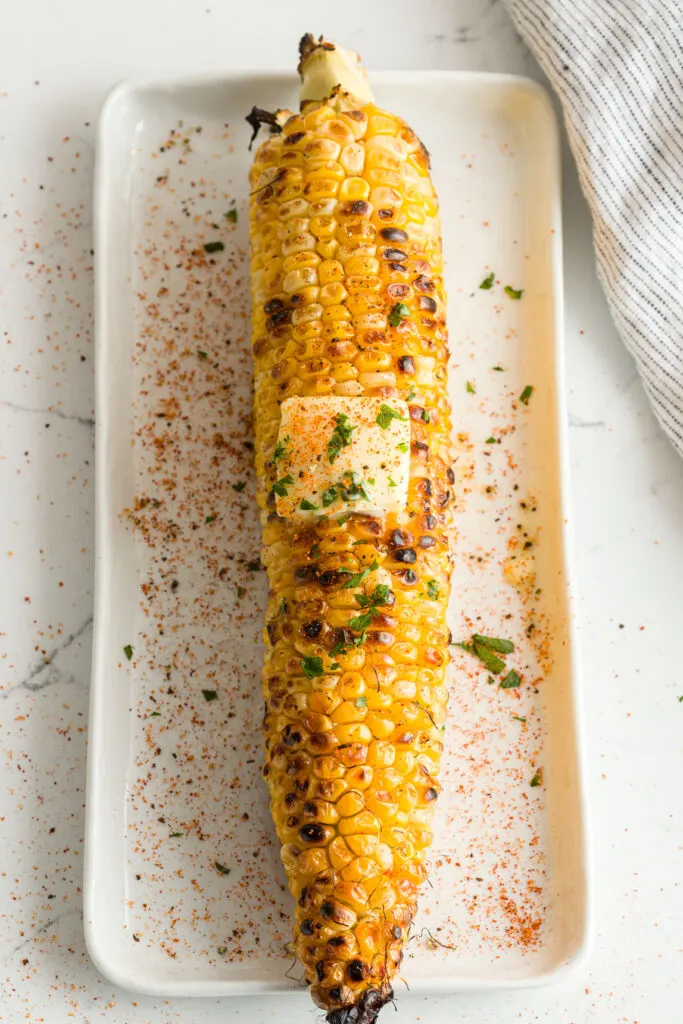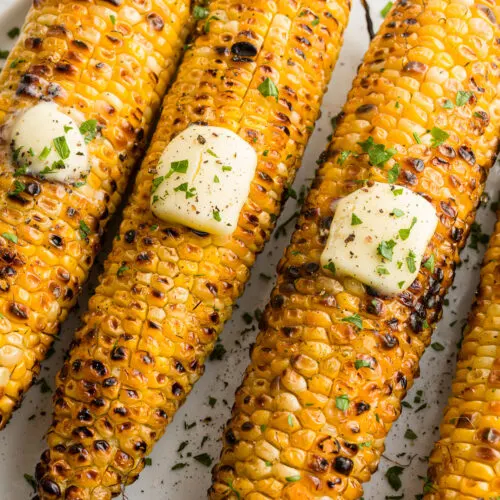 How to Grill Corn on the Grill
Fresh grilled corn on the cob is a summer favorite. It has an irresistible sweet, charred, smoky flavor.
Print Recipe
Rate
Ingredients
4

Ears of Corn

3

Tablespoons

Olive oil
Instructions
Shuck corn (remove husks) and remove cornsilk.

Preheat grill to meduim high heat.

Place corn on hot grill grates.

Brush corn on all sides with olive oil.

Cook for 8 minutes then using thongs turn every 4 minutes.

Cook until the corn is evenly charred about 13 to 15 minutes.

Place cooked corn on a platter then season with salt and pepper to taste.

Place pats of butter on corn to serve.
Notes
Note: The nutritional information does not include butter or seasonings that may be added according to taste.
Nutrition
Calories:
170
kcal
|
Carbohydrates:
17
g
|
Protein:
3
g
|
Fat:
12
g
|
Saturated Fat:
2
g
|
Polyunsaturated Fat:
2
g
|
Monounsaturated Fat:
8
g
|
Trans Fat:
0.01
g
|
Sodium:
14
mg
|
Potassium:
243
mg
|
Fiber:
2
g
|
Sugar:
6
g
|
Vitamin A:
168
IU
|
Vitamin C:
6
mg
|
Calcium:
2
mg
|
Iron:
1
mg
Pin Recipe
See you soon,
Kippi
Ps. This post was shared on Between Naps on The Porch.