Teal pumpkins placed by your door are a symbol to let parents know that non-food ( allergy-free ) goodies are available for trick or treaters on Halloween.
I wrote a post about The Pumpkin Project last year, but this year, I joined some amazing bloggers trying to raise food allergy awareness on Halloween. The Teal Pumpkin Project was born out of the need to keep 6 million children with food allergies safe on Halloween.
Living with food allergies is a constant struggle.
So together, we can keep kids safe on Halloween. It's easy to take part in the movement, and we have a ton of these pumpkin ideas to inspire you.
Teal Pumpkin Project
This post may contain affiliate links. This means that if you purchase from one of these links, I will make a small commission, but rest assured, you will not pay more for any products.
To get ready for food allergy-free Halloween, you have to do some planning.
Print out the sign
Order non-food goodies (see below)
Craft some teal pumpkins
My picks for Teal Pumpkin Project
Decorating the front porch
Teal Fabric Pumpkins
I decided to create more of my teal pumpkin ideas for Halloween this year. I started by making a cute teal pumpkin applique pillow by using my pattern from an earlier post. You can see how I made it there too.
I used black and white buffalo check fabric for the pillow, and then I added a teal pumpkin applique and orange bow. Super simple and perfect for the bench on the front porch.
I could not stop there since the fabric was on my cutting table. I had to make some easy sew pumpkins with the leftover fabric. I used my pumpkin pattern from my Easy Sewing Fabric Pumpkins post.
Lanterns
Lanterns that I used as my prototype for my solar light lanterns on my trellis were sitting on my studio's porch in need of some love. So why not spray paint them and use them for outdoor decorating? I added a glass candle holder that I purchased from the Dollar Tree after I painted it with black spray paint. Then I added one of those cute fabric pumpkins, and I tied a bow on it.
More Pumpkins
My sweet daughter, Olivia, made some super cute Pumpkin Signs and teal door hangers. Check out how she created them using her Cricut Maker, scrapbook paper, and paint.
Next, I wanted to share my friend Kerri's hand-painted pumpkin door hanger. She makes it look so easy.
Agnes created this kid-friendly craft from Just That Perfect Piece. She made this easy DIY pumpkin from a paper lunch bag. So easy you can craft some with the kids.
My friend Michelle from Our Crafty Mom shared how to turn a pumpkin into a beautiful Teal Welcome Succulent Pumpkin to greet her trick or treaters.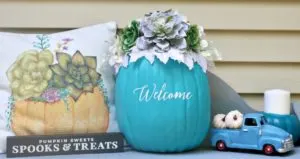 I hope you found some pumpkin inspiration for your Halloween decorating.
I want to invite you to join me on my fall and Thanksgiving decorating journey and to share some of my family's secret recipes; by joining my Fall Newsletter, you will have it delivered right to your inbox.
See you soon,
Kippi