Easy Gnomes DIY:
The idea for Easy Gnomes DIY started when my friend needed something creative to do while recuperating from surgery. She found some cute Gnomes and they made her smile, so she thought she could make some too. I saw them and fell in love too, as a result she taught me to make them. Traditionally they are seen among winter decorations, but not anymore. They can add a touch of whimsy to any decor or occasion. Why not make some to greet your holiday guests? They will bring plenty of smiles. So the Easy Gnomes DIY was my next step to share these delightful creations.
Easy Gnomes DIY with friends:
We had a blast making easy Gnomes together as we laughed and smiled until it hurt. The supplies are inexpensive and easy to find.
Supplies:
Rice (stuffing)
Rubber-bands
Hot glue gun and glue sticks
Scissors
Felt (hat)
Fur Fabric (beard)
Pompom (tip of hat)
Wooden ball (nose)
Gray ankle socks (body)
Supplies needed for Easy Gnome DIY:
Step one:
After your supplies are ready you can print out the hat and beard pattern.
Place 48 ounces of plain rice in a cup (we had to fill up this cup 1.5 times) and stretch the sock over the cup to fill.
Once the rice is all in the sock gently gather the opening together to secure with a rubber band.
After securely closing the opening with a rubber band add a little glue to be double sure it stays closed.
Step two:
Cut out the beard from the fur fabric using the PDF pattern available above. Then decide on the placement remembering that the nose will be added in the center front and the hat will cover the opening and down over the nose just a little.
After deciding on placement glue the beard in place.
Glue it to the sock form body.
Step three:
Find the center front and glue the nose on.
After the nose is glued on use a fork to fluff the beard around the nose.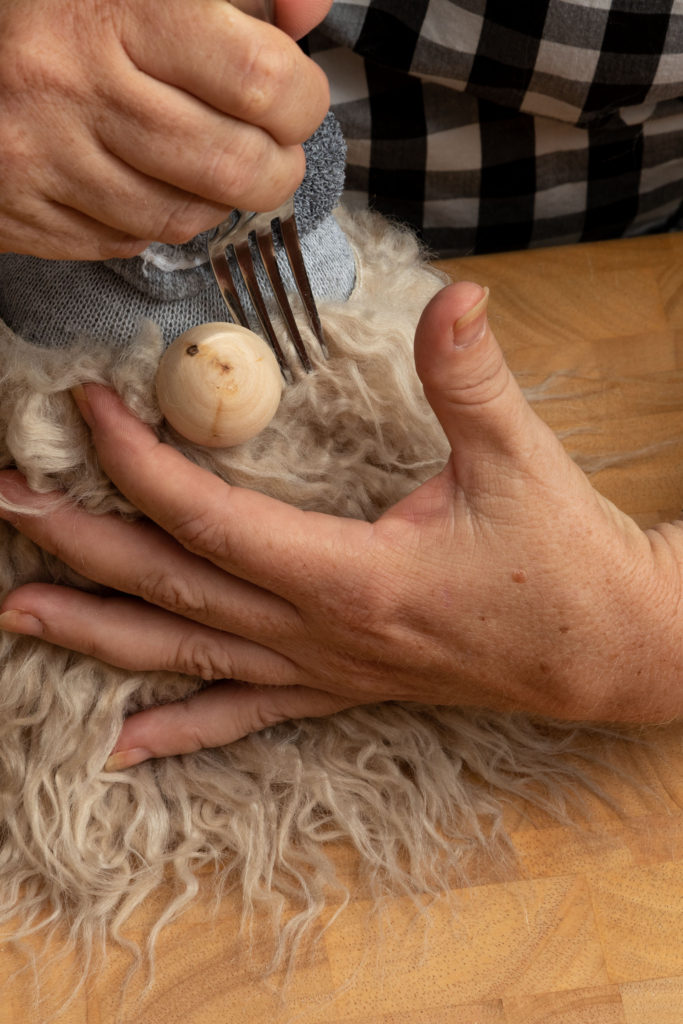 Step four:
The final step is making the hat. Cut the hat out of felt using the PDF pattern available above . Once the hat is cut out there is a trick to "rolling" it to get the correct shape and size. Start rolling and shaping from the shorter side towards the longer side and glue or hand sew the hat closed.
Gluing on the hat and pompom.
This is my favorite Gnome and teacher, Janine from Anchored Gulf Coast:
 
You can see more of her creations in her Etsy shop HERE.
I love fall and this project it is a great one to enjoy as a fun family craft.
Please let me know in the comments below if you make some of these cuties.  I hope they make you smile!
Happy Fall Crafting,
Kippi
Comments
comments