I enjoy giving gifts as much as I do wrapping them. Who can resist a gorgeously wrapped gift?
This post contains affiliate links. Therefore when you purchase from one of these links, I will make a small commission.
If you are still looking for the perfect gift, you can find the Ultimate Gift Guide in this earlier post.
Wrapping Presents Step by Step
I like selecting gift paper, tags, and ribbons that coordinate.
Furthermore, I like coordinating my gifts with my trees, such as red and white for one tree and green, white, and black for the other tree.
Gift Wrapping Supplies
Cutting the Gift Wrap
I recommend watching my Wrapping Gifts Like a Pro video before starting.
If your wrapping paper has a pattern, you can choose how you want the design to run.
Next, place the top of the gift box on the wrong side of your paper.
Cut the wrapping paper large enough to cover your gift with an overlap from side to side.
Tape the paper overlap on the bottom with regular tape since this will not be visible.
Next, bring the paper from the roll to place over the bottom of the box. Make a crease along that edge.
Cut the paper a little longer than the creased edge.
Tip: The paper on the sides should be long enough to extend about 3/4 up the ends of the box.
Taping the Sides
I like to tape (use regular tape) the overlap on the first side to give my paper a tug for a tight fit.
Then I add double-sided tape to that overlap.
Next, I pull the top paper with the flap, place it over the double-sided tape, and press it in place.
Using your finger and thumbs, press a crease in the edges.
Finishing the Ends
To finish the ends, I like to fold in the side of the ends first. Then I press a crease along the edges.
Next, I fold down cut the edges of the top and bottom of the ends then crease the edge.
Tip: To make it easier to get a neat finish, I use a little tape to tape the bottom flap to the ends.
Then I place double-sided tape along the upper flap.
Next, I press the upper flap over the taped up bottom flap and then crease the edges.
Gift Toppers – Finishing Touches
A gift without any adornment is like a wedding cake without a topper.
There are a ton of available ribbons, tags, and ornaments to use. I love to make my toppers, so they are unique. However, I also like a combination of elements to achieve a festive gift design.
Ribbon – Bows
If you have been following my blog, I know I adore ribbons and bows; therefore, I love to use them to top my presents. You can learn how to make my favorite bows in this Bow Making post.
I love pom-poms too so I cannot resist making some to coordinate with my presents too.
Gift Tags
Gift tags can add another fun and personal element to the present. I like to use mini clothespins to attach these layered tags.
Supplies
I have used the tag hole punch to make my gift tags for years (life before Cricut). You can see in this video how I use it to make tags from old Christmas cards.
Combining a large tag with a smaller one for a layered one is an easy way to add dimension and interest to your gift.
The adorable presents below are in an antique rolling laundry basket (you can see all the gifts in this post).
Ornaments and Decorations
After Christmas, I purchase ornaments to use the following year for my gift toppers.
For fun, I like to make a few decorations for my packages.
More Gift Wrapping Ideas
You can make your own wrapping paper with craft paper. These gorgeous presents were wrapped by my friend Jayne from Chalking Up Sucess. Jayne shares how to wrap gifts in an eco-friendly way.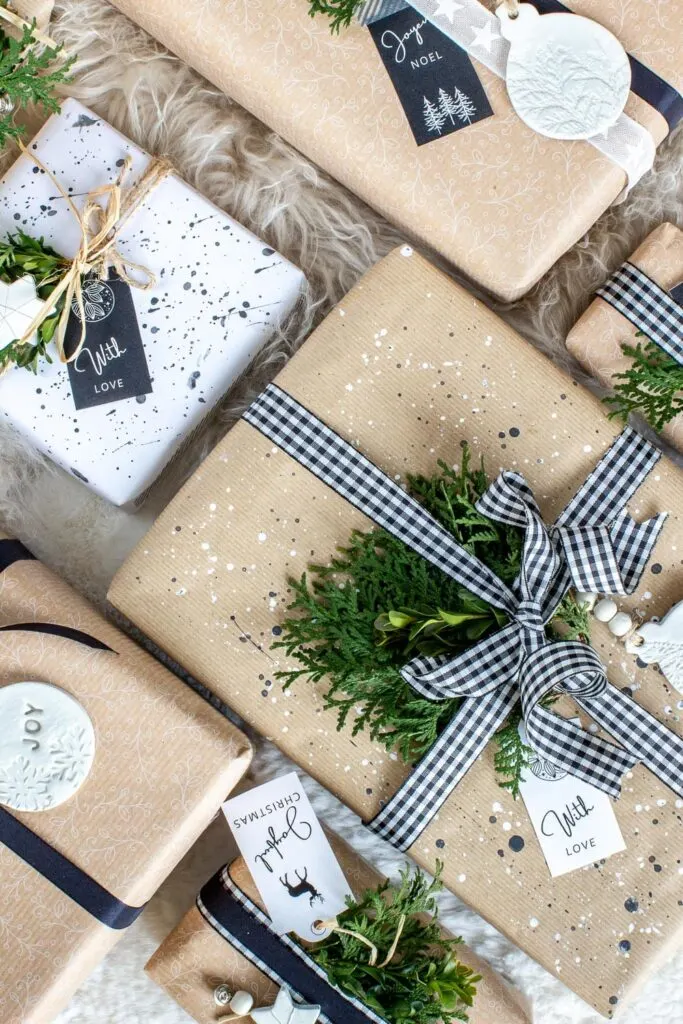 This pretty DIY paper bow was created by my friend Rebecca from Zucchini Sisters. This is a great way to use up those wrapping paper scraps.
Want a Stress-Free Holiday???
Want to enjoy all the holiday season has to offer? Are you feeling overwhelmed when you think of the holidays?
Join me as we enjoy a stress-free holiday season. I will send you emails loaded with a ton of inspiration, money-saving ideas for decorating, gift-giving, and so much more.
Please join me for a ton of inspiration and ideas! And have the best of everything this holiday.
Merry Christmas,