We built my studio in 2004, and now it needs an update. I knew adding some DIY shutters would transform my little cottage studio into a charming oasis. Additionally, shutters can add curb appeal, thus adding value to your home.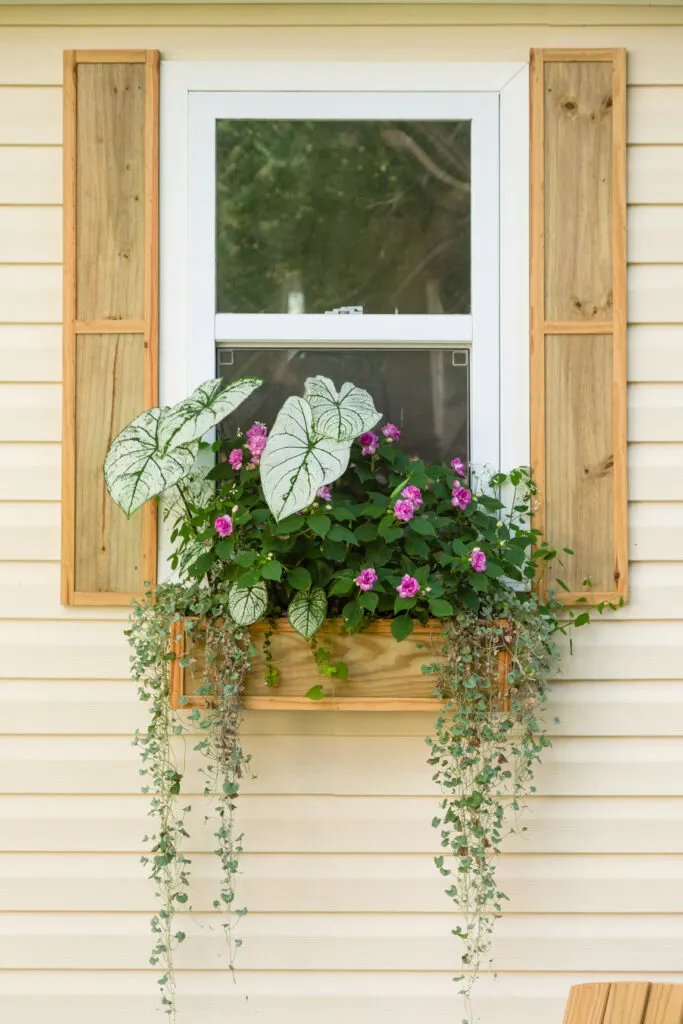 You can see in the photo below how the window appeared before the shutters and window flower box.
This post may contain affiliate links. In other words, if you purchase from one of these links, I will make a small commission. However, you can rest assured you will not pay more for any products.
How to Build DIY Shutters
Types of Wood for Shutters
Lots of wood choices will work for shutters, but the key is to water seal or paint the wood so it will last. Building them yourself saves money as well as you can customize them to suit your style.
Wood choices:
Cedar
Cypress
Pallet wood
Pine
Deck boards
Choosing the wood was straightforward since I wanted all my wooden yard accents and structures to coordinate. Therefore we will use the same wood we used to build our gorgeous trellis, solar lanterns, birdhouses, obelisk, and window flower boxes from pressure-treated deck boards.
Tools:
Materials:
1 x 8 x 8 pressure treated

5/4 x 6 x 8 pressure treated (deck board)

Trim wood screws

Galvanized nails 1/2inch

Exterior wood glue (this one is my favorite)

Sandpaper 100 grit
Lumber Cuts for the DIY Shutters
You will need two cuts, 1 x 8 to length. 2 inches longer than the window trim.
Cut 5/4 board into ⅛ inch strips for the trim.
Cutting Trim for the DIY Shutters
We used 5/4 x 6 x 8 pressure treated (deck board) for the DIY shutter trim. To make the trim boards, we cut 1/8″ slices along the length of the board.
Note: Another option for trim is to use 1/4″ X 1-1/2″ x 6′ pressured-treated pine lath (I found this item at Home Depot).
Assemble The Frames
Cut trim strips to length for the long edge and attach to the face flush with the edge with glue and a few nails.
To cut the trim board for the top and bottom of the shutter place one end against the side trim and mark the cut line.
Cut three strips for the top, middle, and bottom vertical pieces: glue and nail. Repeat this process for the center trim.
Sand rough edges if needed and apply water seal.
Simple DIY shutters built in less than 60 minutes can add value and beauty to your home's exterior.
Installing the Exterior DIY Shutters
Hang with trim screws. Add spacers if hanging on the vinyl side to prevent crushing the siding.
Note: If you are installing your DIY shutters over brick predrill into a mortar joint, add screw anchors. Attach with 2″ trim screws.
We made our install blocks the same depth as the vinyl siding but cut them an inch shorter than the shutter's width. Install the blocks in the lowest area of the siding.
If you are ready to plan your dream outdoor space, please join me as I create the "Best Life Now" in our gardens (join HERE).
You might also enjoy these DIY projects:
See you soon,
Kippi