It's spring, and Easter is just around the corner, so it is the perfect time to get your home ready for Easter. I have gathered 50 inspiring Easter decoration ideas for your home.
Wreath DIY Easter Decorations
This post contains affiliate links. If you purchase from one of these links, I will make a small commission.
This fun Easter Wreath Wall Basket is perfect for decorating your front door. It is so easy to fill with your favorite decor items. Add a gorgeous bow, and it is ready for Easter.
Hoop wreaths with peonies are gorgeous, so why not make one into a Bunny Split Ball Bunny Wreath?
This Carrot Tobacco Basket Wreath was created with upcycled wooden Christmas trees. This farmhouse carrot Easter Wreath can be used all year to decorate your kitchen.
Easy Bunny Ear Hoop Wreath created with embroidery and gorgeous peonies and eucalyptus.
This simple Hoop Wreath is perfect for spring decorating. It can be used indoors and on your front door to greet your guests and family.
Wall Decor
Farmhouse Carrot Wall Decor was created with a simple chalkboard and yarn-wrapped carrots.
Rae Dunn inspired Hoppy Easter sign. Easy and budget-friendly DIY Easter decoration made with a Dollar Tree sign and items you have on hand.
Burlap and pearls bunny wall decor is a fun mix of rustic and feminine elements.
Easter Bunny Wall Decor. Watch the adorable bunny video from Kippi At Home.
An adorable framed bunny on cork adds a pop of color to your Easter decorations. My friend Jane from Sustain my Craft Habit created shows us how to make this bunny art.
Easter Decor Bunny
DIY Scrap Wood Easter Bunny is fun Easter decor bunnies you can create from scrap wood and items on hand.
Miss wood slice bunny I created from a fallen tree in our yard. Wood slice bunnies are a fun and whimsical addition to your flower pots.
Fabric Decor
Farmhouse style buffalo plaid Easter decor bunny was easy to create and too stinking cute to put away after Easter. It pairs perfectly with my dropcloth carrots.
Accent pillows are great for decorating your home for Easter. This DIY Bunny Pillow I created with cute felt "peeps."
Easy Easter Bunny Craft was created by my daughter, Olivia. Olivia shares how to make gorgeous felt flowers.
DIY Glitter Easter Jars were created by my daughter, Olivia, from recycled jars. These cuties will be sure to delight everyone at Easter.
Transform simple clay pots into fun Easter Pots with paint and a few doodads. They are perfect for place settings on your Easter table.
Easter Chalk Paint Jars filled with flowers were created from recycled jars, faux flowers, and baker's twine. You can add fresh flowers and place them anywhere in your house to add some pretty Easter decorations.
This DIY Easter decor is an Upcycled Spring Bunny from Pillar Box Blue. I love how creative this idea is. Who would have thought to make an Easter decor bunny out of an old spring?
Lace Bunny Easter Craft from DIY Candy is feminine and too pretty to put away after Easter.
Sustain My Craft Habit created rock decoupage Easter bunnies with Easter napkins, glue, diamond dust, and wire.
My Poppet created Easter Craft Bunny Gift Box with budget-friendly felt fabric. You can fill this adorable bunny gift box with special treats.
Easter Eggs Decor Ideas
Decoupage Easter Eggs created with pretty napkins, Mod Podge, and of course, diamond dust. DIY Decoupage eggs are a lovely addition to your Easter decor. They can be tucked in baskets, on the mantel, in urns, etc.
Standing Easter Egg created with scrap pallet wood. To use our scraps from making standing bunnies, I decided to make standing eggs.
I can't wait to make myself some of these Painted Wooden Eggs from Homemade Heather. They are easy to make and look so lovely!
These Unicorn Easter Eggs from Frugal Momeh are a show stopper! Look at all those little details; they're precious.
From the First Day of Home, My friend Crissy has shared her family tradition of making confetti Easter eggs. I think the kids and the adults will enjoy smashing these fun eggs on Easter.
Celebration Generation created easy Pysanky Easter Eggs in the traditional Urkarin style.
This Paper Mache Egg Decoration from Pillar Box Blue reminds me of my childhood's little decorated sugar eggs. You can have a lot of fun creating little scenes inside these eggs.
Easter Table Decor
DIY Burlap Bunny is the perfect Easter decor for your buffet table.
Easy Easter Decorating DIY includes chalk-painted terracotta pots, a bunny, and a carrot garland.
DIY Easter Egg Carrots add a vintage splash of color to your Easter table decor. This basket of carrots is a safe Easter table centerpiece for kids.
We made these fun Easter Egg Candle Holders in a few easy steps, such as painting the Easter eggs, drilling the eggs, and assembly. If you use battery-operated candles with a timer, you can enjoy them every evening when you arrive home after work.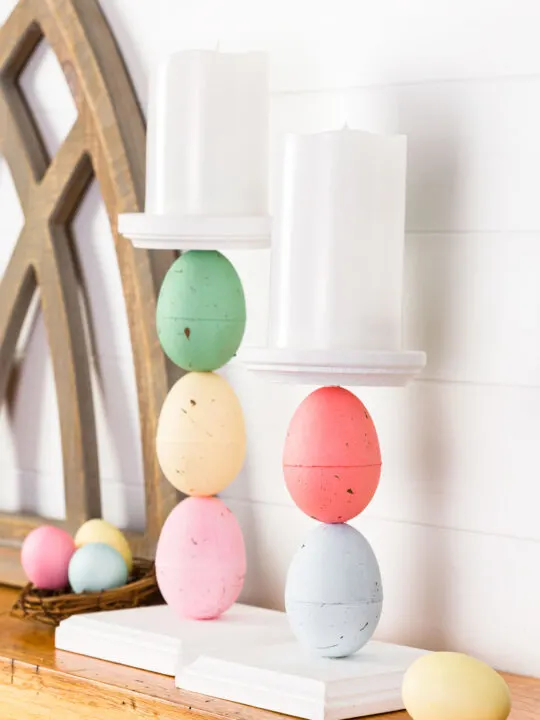 Paper Grocery Bag Easter Basket was created with a paper grocery bag and glue. You can fill your grocery bag baskets with Easter grass or shredded paper and eggs.
DIY Easter Basket with Felt was created by Sustain My Craft Habit. This cute felt basket filled with candy is sure to delight everyone at Easter.
Easter Mantel Decor
Easter Gnomes are no-sew gnomes that can be used as a garland to decorate your mantle, over a picture frame or mirror, etc.
DIY Yarn Carrots are so easy and almost free to create. I used Amazon shipping boxes for the carrot's base. You can string them together to create a carrot garland.
This easy paper Carrot Garland was fast and budget-friendly to create. I made it to decorate my mantel combined with some fairy lights.
DIY Bunny Banner was created from paper and mini pom-poms so it is lightweight and can be used to decorate your Easter mantel and more.
Easter Bunny Garland with Bunnies and Carrots was created by my daughter, Olivia. Olivia shows you how to make your own pretty Easter garland in her post.
DIY Easter Crafts
Farmhouse Cloth Carrots are vintage-inspired Easter decor that can be used all year. These carrots are one of my favorite Easter crafts this year.
Spring floral Paper Basket DIY is so easy and fast to craft. You can make them for all your friends and family.
This DIY Wooden Tote for Easter was inspired by my father's vintage wooden toolbox (caddy). I used a spindle from an old bed's headboard for the handle.
Spring Block Sign DIY was created from scrap wood. I love the simplicity of block signs for seasonal decorating, so I have been making them for every season.
Another easy DIY Easter craft is Pinecone Carrot Bundles. A friend gifted me a ton of pinecones, so I have been using them to craft and feed the birds.
Wood bead Carrot garland was so fun to create. Wooden bead garlands are lovely for decorating a tiered tray.
Create custom Easter baskets with metal pails and decals for your little ones. These "Easter Baskets" can be used all year for storage or for collecting shells this summer.
These Easter Bunny Mason Jars from The Decorated Cookie are so adorable and work great for gifts and as Easter decorations.
Cute Terra Cotta Pot Carrot is so easy to craft from a clay pot and saucer, felt, and twine. Or for extra fun, you can fill the "carrot" with goodies.
Craft some fun Salt Dough Easter Decorations with the kids for a fun family craft night.
Outdoor Easter Decorations
Lastly, you'll want one of these DIY Standing Bunny Reclaimed Pallet Wood by your front door.
Wood slice bunnies we crafted from a fallen tree. We had a blast making them and dropping them off on a neighbor's porches ding dong ditch style.
Want More Crafting Inspiration?
Please join me (HERE) as we craft up some fun. You can look forward to receiving new inspiration every week.
Happy Easter,
Kipp
Ps. I will be sharing this on Between Naps on the Porch